Reports and Campaigns

About the Socialist Party

Anti-capitalism

Anti-privatisation

Anti-war

Election campaigns

Environment

Health

Socialist women

Workplace

Youth and Students
---
Workplace and TU campaigns keywords:
---
Reports and campaigns:
Related websites
Trade Unionist and Socialist Coalition
National Shop Stewards Network
---
Workplace and TU campaigns / Agency workers
---
18 February 2009

Anger as jobs slashed with an hour's notice
Workers at BMW's Mini plant at Cowley in Oxford reacted in fury when they were given an hour's notice that they were losing their jobs, writes Alison Hill.
19 November 2008

'We're not taking these job cuts'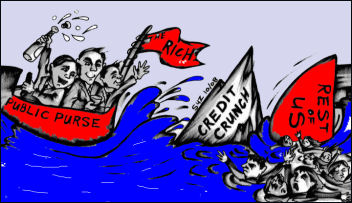 Super-rich bailed out by public purse while the rest of us are sinking, photo Suz squashdonkey.co.uk
BT slashes 10,000 posts:
BT's recent announcement of 10,000 job cuts, as well as the loss of pension benefits, is an attempt by senior management to offset their poor performance, writes Bernard Roome, Communication Workers Union (CWU) national executive member, personal capacity.
14 September 2006

Agency workers vote 100% for union recognition
AGENCY WORKERS in the British Cattle Movement Service (BCMS) in Workington, Cumbria have unanimously voted in favour of union recognition, writes Tracy Edwards.
2 June 2005

Striking back at pay-cutting bosses
INDUSTRIAL ACTION by Amicus members at HSBC on 27 May was taken as a result of a pay package which cut bonuses and imposed a below-inflation rise...
21 June 2003

Tameside Day Centre Users Protest Against Cuts
Carers, Friends (including Tony Booth!) and users of Gorse Hall day centre, Stalybridge, demonstrated at the Tameside town hall on 11 June against proposed cuts at their centre, writes Elaine Healey Manchester.
26 July 2002

Mass Action Against Low Pay And Privatisation
THE COUNCIL workers' strike on 17 July was an inspiration. It showed the determination to fight low pay by the people who prop up large parts of the public sector, writes Paul Moorhouse, UNISON steward.




LATEST POSTS

WHAT'S ON

CONTACT US
Locate your nearest Socialist Party branch Text your name and postcode to 07761 818 206
Regional Socialist Party organisers:
Eastern: 0798 202 1969
East Mids: 0773 797 8057
London: 020 8988 8786
North East: 0784 114 4890
North West 07769 611 320
South East: 020 8988 8777
South West: 07759 796 478
Southern: 07833 681910
Wales: 07935 391 947
West Mids: 02476 555 620
Yorkshire: 0114 264 6551

ABOUT US

ARCHIVE
---

2017

2016

2015

2014

2013

2012

2011

2010

2009

2008

2007

2006

2005

2004

2003

2002

2001

2000

1999