Argentina
---
Socialism 2006
Latin America in revolt
SOME OF the most important discussions at November's Socialism 2006 will be about the mass movements that have swept Latin America - an entire continent in revolt - and to discuss the way ahead.
Mike Garrett
Decades of plundering by multinationals, together with a pro-privatisation IMF policy, have resulted in a chasm between rich and poor. Over 215 million people live below the poverty line whilst a rich elite lords it over them.
The richest 10% of Brazil consume 47% of national income while the poorest 10% consume just 0.5%! But in the past few years the Latin American masses have fought back against the onslaught of neo-liberalism and a wave of radical presidents have been elected.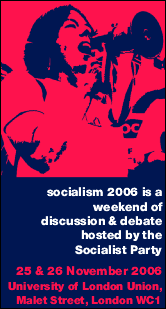 In Ecuador, mass uprisings toppled three presidents. In Argentina, four presidents were forced out of office in a few weeks when the financial system collapsed in 2001. In Bolivia in 2005, mass demonstrations and strike action demanded renationalisation of the energy industry and the country stood on the brink of civil war, resulting in the election of Evo Morales in January 2006.
Morales and fellow radical president Hugo Chavez of Venezuela were elected as a reflection of this discontent and have been able to carry out reforms; specifically in health, education and cheap food distribution. In Bolivia, for instance, the minimum wage has been increased by 13%. But nearly 30% of workers still receive less than the minimum wage in urban areas and capitalism still condemns 67.3% of the Bolivian population to conditions of stark poverty.
US secretary of state Condoleezza Rice described Hugo Chavez as "the most dangerous man in the region." The US and international ruling class feel threatened by the role that Chavez and Morales are playing in the region.
Although they are still operating within the confines of the capitalist system, they talk of socialism and have been pushed further to the left by the mood of the masses.
The US administration would much rather have another Lula, Brazil's president, than another Morales or Chavez. Lula, like them, was elected through a tide of protest against the effects of neo-liberal policies, especially the crippling effect of IMF debt repayment. However, since his election Lula has proved to be a friend of the bosses and his government is widely seen as corrupt and ineffectual.
Latin America is a hotbed of the class struggle and an area widely debated on the left. Which is the best way forward for the working class and poor masses of Latin America? What lessons can we draw from the experiences of Latin America for the working-class movement internationally?

Come to Socialism 2006 and find out more about the titanic struggles and to discuss the way forward.

Book online
---




LATEST POSTS

WHAT'S ON

CONTACT US
Locate your nearest Socialist Party branch Text your name and postcode to 07761 818 206
Regional Socialist Party organisers:
Eastern: 0798 202 1969
East Mids: 0773 797 8057
London: 020 8988 8786
North East: 0191 421 6230
North West 07769 611 320
South East: 020 8988 8777
South West: 07759 796 478
Southern: 07833 681910
Wales: 07935 391 947
West Mids: 02476 555 620
Yorkshire: 0114 264 6551

ABOUT US

ARCHIVE
---

2017

2016

2015

2014

2013

2012

2011

2010

2009

2008

2007

2006

2005

2004

2003

2002

2001

2000

1999