---
Filter by importance | All results
---
30 April 2008

Bolivia - right-wing coup threat
BOLIVIA IS awash with rumours about an impending right-wing coup against the elected government of president Evo Morales, writes Karl Debbaut.
23 January 2008

Bolivia at breaking point
IN NOVEMBER and December last year Bolivia was on the brink of civil war. The right-wing opposition of the gas-rich eastern provinces had declared autonomy... By Karl Debbaut, Committee for a Workers' International (CWI)
7 June 2007

Bolivia: Release Adam Ziemkowski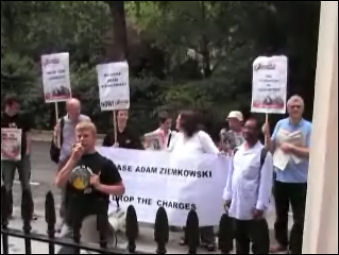 Still from video of UK protest outside the Bolivian embassy
FOLLOWING ATTACKS on left-wing activists by right-wing thugs, working in collaboration with the right-wing Prefectura in Cochabamba, Bolivia, CWI member Adam Ziemkowski has been arrested. He will appear in court on 6 June charged with 'sedition and incitement to violence'.
1 June 2007

Protest at arrest and prosecution in Bolivia
Dear Sir,...
1 February 2007

Bolivia: Mass protests demand right-wing Prefect's resignation
TWO WEEKS of intense mobilisations, protests, and street blockades calling for the resignation of right-wing departmental prefect (elected head of the regional administration), Manfred Reyes Villa, culminated in a popular ass...
7 December 2006

Political tensions rage in Bolivia
ON 27 NOVEMBER, several hundred protesters surrounded the entrance to Cochabamba's municipal building in what turned out to be a sharp clash with right-wing thugs and provocateurs and the Cochabamba police...
11 May 2006

Morales takes on 'Big Oil'
The part-nationalisation of Bolivia's gas and oil industry by president Evo Morales, similar to Hugo Chávez's decree in Venezuela earlier this year, is another blow to the 'neo-liberal' agenda of big business and imperialism in Latin America...
23 June 2005

Bolivia - after the uprising
THE MASS protest movements against neo-liberal policies that swept Bolivia with strikes and demos have ousted president Carlos Mesa...
9 June 2005

Bolivian workers fight privatisation and imperialism
Bolivian workers have been battling the vicious neo-liberal policies of their government backed by Western imperialism...
1 November 2003

Bolivia: Uprising By Workers And Poor Forces Out President
A POWERFUL movement of workers, peasants and indigenous peoples - the poorest people in the poorest country of Latin America - has checked the neo-liberal plans of the Bolivian government and, on 17 October, forced President Gonzalo Sánchez de Lozada to resign and flee to Miami...
18 October 2003

Bolivia: A Movement Of Insurrectionary Scale
FOR THE second time this year Bolivia's ruling class is facing a workers' and peasants' movement of insurrectionary proportions, writes Dave Carr.




LATEST POSTS

WHAT'S ON

CONTACT US
Locate your nearest Socialist Party branch Text your name and postcode to 07761 818 206
Regional Socialist Party organisers:
Eastern: 0798 202 1969
East Mids: 0773 797 8057
London: 020 8988 8786
North East: 0784 114 4890
North West 07769 611 320
South East: 020 8988 8777
South West: 07759 796 478
Southern: 07833 681910
Wales: 07935 391 947
West Mids: 02476 555 620
Yorkshire: 0114 264 6551

ABOUT US

ARCHIVE
---

2017

2016

2015

2014

2013

2012

2011

2010

2009

2008

2007

2006

2005

2004

2003

2002

2001

2000

1999