Mcjobs
---
Filter by importance | All results
---
23 November 2016

Job figures mask casualisation
For real jobs, not 'gig economy': Unemployment levels are at their lowest for eleven years. However, when you scrape below the surface of the headlines, then for ordinary people there is little to celebrate.
31 May 2007

No to McJobs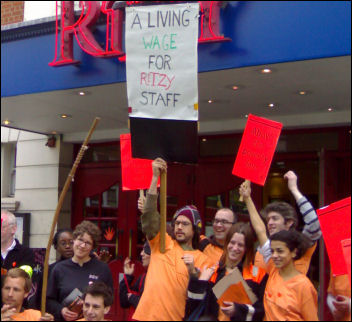 On the picket line at the Ritzy
WORKERS AT Brixton's famous Ritzy cinema in south London were on strike on 26 May, aiming to secure themselves a living wage.




LATEST POSTS

WHAT'S ON

13 May Socialist Party Scotland: What is socialism and why should you fight for it

13 May Waltham Forest Socialist Party: What next in the fight against Covid austerity?

13 May Sheffield Socialist Party: Onward from the elections - continue the fight for socialism

CONTACT US
Locate your nearest Socialist Party branch Text your name and postcode to 07761 818 206
Regional Socialist Party organisers:
Eastern: 079 8202 1969
East Mids: 077 3797 8057
London: 075 4018 9052
North East: 078 4114 4890
North West 079 5437 6096
South West: 077 5979 6478
Southern: 078 3368 1910
Wales: 079 3539 1947
West Mids: 024 7655 5620
Yorkshire: 078 0983 9793

ABOUT US

ARCHIVE
---

2020

2019

2018

2017

2016

2015

2014

2013

2012

2011

2010

2009

2008

2007

2006

2005

2004

2003

2002

2001

2000

1999