Reports and Campaigns

About the Socialist Party

Anti-capitalism

Anti-privatisation

Anti-war

Election campaigns

Environment

Health

Socialist women

Workplace

Youth and Students
---
Youth keywords:
Croxteth Comprehensive School (1)
Educational Maintenance Allowance (4)
Youth Fight for Education (12)
---
Reports and campaigns:
Stop the slaughter of Tamils (94)
Workplace and TU campaigns (8351)
Related websites
Trade Unionist and Socialist Coalition
National Shop Stewards Network
---
---
14 January 2009

Fight for your future: what ISR campaigns for
Brown and Co want to make young people pay for the economic crisis. That means higher education fees, low pay and unemployment. International Socialist Resistance launched the Youth Fight for Jobs campaign...
29 January 2008

New Labour attacking our vital benefits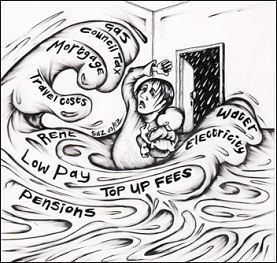 Flooded with Debt, cartoon by Suz, www.squashdonkey.co.uk
Gordon Brown's government is weaker than ever before. The smog of sleaze that pervaded Blair's government has now settled over Brown's with the resignation...
6 December 2007

Compulsory school to 18 - a rosy future for young people?
MANY YOUNG people hoping for a decent future, desperately seeking work, training and apprenticeships, might hope Gordon Brown's recent announcements will help them... By Nick Chaffey
17 April 2004

Low Pay, No Way!
WHILE FAT-CAT bosses get richer, many young workers are exploited in low paid jobs, often with very little security. In 2003 executive directors of the UK's top 100 companies received an average pay increase of 23% while average earnings rose by a...




LATEST POSTS

WHAT'S ON

CONTACT US
Locate your nearest Socialist Party branch Text your name and postcode to 07761 818 206
Regional Socialist Party organisers:
Eastern: 0798 202 1969
East Mids: 0773 797 8057
London: 020 8988 8786
North East: 0191 421 6230
North West 07769 611 320
South East: 020 8988 8777
South West: 07759 796 478
Southern: 07833 681910
Wales: 07935 391 947
West Mids: 02476 555 620
Yorkshire: 0114 264 6551

ABOUT US

ARCHIVE
---

2017

2016

2015

2014

2013

2012

2011

2010

2009

2008

2007

2006

2005

2004

2003

2002

2001

2000

1999