Workers press
---
Filter by importance | All results
---
6 September 2007

'Agitate, educate, organise': the role of the workers' press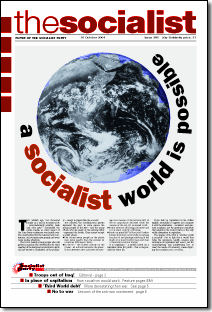 The Socialist issue 366
DURING 500 issues the socialist has carried news and analysis, reviews, letters, historical material, cartoons and reports of campaigns and struggles across England and Wales and the world.
It has put forward strategies for opposing privatisation of public services such as the health, fire and postal services and the wars and occupations of Iraq and Afghanistan, among other issues.




LATEST POSTS

WHAT'S ON

28 Feb Socialist Students conference

2 Mar Bristol North Socialist Party: The National Question - Scotland, Wales & N Ireland

2 Mar Caerphilly & RCT Socialist Party: How can peace be achieved in Israel/Palestine?

CONTACT US
Locate your nearest Socialist Party branch Text your name and postcode to 07761 818 206
Regional Socialist Party organisers:
Eastern: 079 8202 1969
East Mids: 077 3797 8057
London: 075 4018 9052
North East: 078 4114 4890
North West 079 5437 6096
South West: 077 5979 6478
Southern: 078 3368 1910
Wales: 079 3539 1947
West Mids: 024 7655 5620
Yorkshire: 077 0671 0041

ABOUT US

ARCHIVE
---

2020

2019

2018

2017

2016

2015

2014

2013

2012

2011

2010

2009

2008

2007

2006

2005

2004

2003

2002

2001

2000

1999