Tamil
---
Filter by importance | All results
---
12 February 2020

Building a working-class movement for Tamil rights
On 4 February, Tamil Solidarity called a protest outside the Sri Lankan High Commission in London. This protest marked a black day for Tamils.
1 February 2017

Tamil Nadu mass protests against state repression
In December 2016 it was reported that India had surpassed Britain to become the sixth largest economy in the world. However, India is one of the most unequal countries with the richest 1% holding 58% of overall wealth. For the poorest and those suffering oppression, life in India is brutal.
18 September 2013

Commonwealth governments' meeting: Protest against despot Rajapaksa
Tamil Solidarity is at the forefront of protests against this year's Commonwealth Heads of Government Meeting in Sri Lanka, in November, writes Keerthikan Thennavan, Tamil Solidarity joint national secretary.
5 December 2012

Belgium: Defend Tamil activist from deportation
Tamil Solidarity activist Muruganandam Murugathas - Thas to his friends - was arrested in November and taken to a closed centre for asylum seekers in Steenokkerzeel, in reality a deportation camp...
8 December 2010

Warmonger Rajapaksa forced to abandon his Oxford Union speech
HOWLS OF outrage greeted the news that the Oxford Union debating society had invited Sri Lankan president and suspected war criminal, Mahinda Rajapaksa, to address it on 1 December...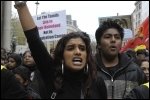 Demonstration against the Sri Lankan government's attacks on the Tamils 11 April 2009, photo Paul Mattsson
4 August 2010

Daily Mail admits guilt over smearing Tamil hunger striker
THE DAILY Mail headline read: "Hunger Striker's £7 million Big Mac". This outrageous attack, printed on 9 October 2009, accused Subramanyam Parameswaran of eating a Big Mac while 'pretending' to be on hunger strike in Parliament Square, London.
17 March 2010

Free the Tamil refugees
'WE WILL not remain silent while Tamil refugees suffer out of the sight of the world's media'. That was the message to the Australian High Commission in London on Wednesday 10 March, writes Manny Thain, Tamil Solidarity national secretary.
9 December 2009

Free the Tamil boat people
AS PART of an international day of action, Tamil Solidarity organised a protest outside the Indonesian embassy in London on Friday, writes Manny Thain.
3 December 2009

Joe Higgins MEP condemns intimidation of Tamil refugees
Heavily-armed navy commandos surround Tamil-speaking refugees on the boat in Merak, Indonesia
18 November 2009

Tamil refugees in desperate situation
TAMIL-SPEAKING refugees remain on a boat in the Indonesian harbour of Merak, denied their fundamental human rights, writes Senan, Tamil Solidarity.
20 October 2009

Sri Lanka protest: Shut down the prison camps!
DISGUST AT the inhuman treatment of hundreds of thousands of Tamils held under armed guard in open prison camps in Sri Lanka brought tens of thousands on to the streets of London on 17 October, writes Manny Thain.
16 September 2009

Sri Lanka: Defiant Tamil protest
TAMIL PEOPLE have begun mobilising again with the first of weekly Friday protests outside Downing Street in response to the horrific conditions in internment camps in Sri Lanka, writes Manny Thain.
22 July 2009

Build the Tamil Solidarity campaign
Sri Lanka: "THERE ARE no minorities in this country," Sri Lankan president Mahinda Rajapakse declared on 19 March, after his army killed over 20,000 Tamil people and imprisoned 300,000 in World War Two-style camps...
24 June 2009

The guns fall silent - but no peace for Tamils
OVER 70,000 mainly Tamil demonstrators marched through London on 20 June, angered by the continued misery of the Tamil people following the Sri Lankan government's military defeat of the LTTE (Liberation Tigers of Tamil Eelam).
22 April 2009

Tamil action to stop the war continues
STOP THE Slaughter of Tamils (SST) campaign followed up on the massive national demonstration against the war in Sri Lanka on 11 April with a public meeting in central London, writes Manny Thain.




LATEST POSTS

WHAT'S ON

CONTACT US
Locate your nearest Socialist Party branch Text your name and postcode to 07761 818 206
Regional Socialist Party organisers:
Eastern: 079 8202 1969
East Mids: 077 3797 8057
London: 07748 534 891
North East: 078 4114 4890
North West 079 5437 6096
South West: 077 5979 6478
Southern: 078 3368 1910
Wales: 079 3539 1947
West Mids: 024 7655 5620
Yorkshire: 077 0671 0041

ABOUT US

ARCHIVE
---

2019

2018

2017

2016

2015

2014

2013

2012

2011

2010

2009

2008

2007

2006

2005

2004

2003

2002

2001

2000

1999