Ofsted
---
7 December 2012
Sheffield teachers' strike against 'mock Ofsteds'
Alistair Tice
Over 30 members of the National Union of Teachers (NUT) took strike action on Thursday 6 December at Westfield Sports College, a secondary school in Sheffield.
The central issue at dispute is the management's insistence in conduct observations in the style of Ofsted, what the teachers are calling "mock Ofsteds".
Initially the Head wanted a "two-day window", meaning that teachers could be observed at any time within a two day period.
This was brought down to a "one-day window", but the NUT has rightly insisted on the implementation of the NUT/NASUWT Joint Classroom Observations protocol which stipulates that the times of observations should be agreed at least five days in advance.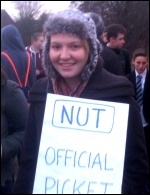 What has brought this issue to a head is the school implementing "deep coaching" for any teachers judged to have performed poorly in observation.
This is the equivalent of teachers themselves being put in Special Measures, and a step before being put into the Capability procedure which stays on a teacher's record.
The effect of this is that many teachers leave before risking it going on their record and making it almost impossible to get another post.
The NUT members have been given confidence in taking action by the NUT's national Phase One of industrial action short of a strike. A further two-day then a three-day strike are planned over the next two weeks.
Most of the 20 or so on the picket line were young teachers, many of them newly qualified and the most affected by this observation policy.
Many students joined the teachers on the picket line before going into school. They won't have to do any maths today as the entire maths department is on strike.
Joint Branch secretary of Sheffield NUT Toby Mallinson told me: "This is dictatorship not leadership.
"It's about looking for failure. It puts teachers under even more stress and undermines their confidence which in turn undermines their performance.
"This strike is about who runs the school? Is it just the Head or is it all the teachers and staff? This strike gives teachers the confidence to stand up to management bullying."
---




LATEST POSTS

WHAT'S ON

CONTACT US
Locate your nearest Socialist Party branch Text your name and postcode to 07761 818 206
Regional Socialist Party organisers:
Eastern: 079 8202 1969
East Mids: 077 3797 8057
London: 020 8988 8786
North East: 078 4114 4890
North West 079 5437 6096
South West: 077 5979 6478
Southern: 078 3368 1910
Wales: 079 3539 1947
West Mids: 024 7655 5620
Yorkshire: 077 0671 0041

ABOUT US

ARCHIVE
---

2019

2018

2017

2016

2015

2014

2013

2012

2011

2010

2009

2008

2007

2006

2005

2004

2003

2002

2001

2000

1999