Performance
---
BT slashes 10,000 posts
'We're not taking these job cuts'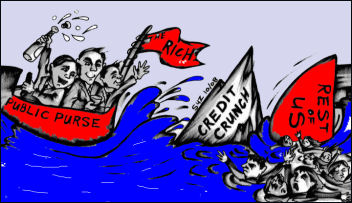 Super-rich bailed out by public purse while the rest of us are sinking, photo Suz squashdonkey.co.uk
BT's recent announcement of 10,000 job cuts, as well as the loss of pension benefits, is an attempt by senior management to offset their poor performance. It seems that playing with people's lives is fair game when you are trying to boost the company's share price.
Bernard Roome, Communication Workers Union (CWU) national executive member, personal capacity
This is the latest in a long line of attempts to try to make BT look good to the City. This latest announcement comes on the back of their failure to make the 15% increased profitability target for Global Services that they had promised to the City three years ago. That had been seen as the growth engine of BT.
There was never any real chance of achieving the goal but it allowed management to put off the day when the City lost confidence and the shares crashed. This has now happened.
The shares recently fell below the initial price when BT was privatised over 20 years ago. This is a shining example of a national asset being devalued when placed in private hands.
Now, instead of promising growth they offer job cuts. Of the 10,000 job cuts announced, 4,000 have already gone. There is a growing number of full time BT employees in the UK being placed in redeployment units without any prospect of jobs in the near future. And work is still being sent abroad.
The CWU, along with other trade unions, has been part of what seemed to be a successful campaign to get agency workers the same terms and conditions as those people who had full-time contracts. This can now be seen as a pyrrhic victory as BT cuts agency jobs.
Now, agency workers will not receive the terms that they deserve. After in some cases, many years of working for BT, they will also lose their jobs.
There is no doubt that the CWU's policy of balloting for industrial action if BT announce even one compulsory redundancy has prevented the full brunt of the attacks being placed on BT employees. But the number of people being 'managed' out of the company due to 'performance' is increasing.
There is an urgent need to ensure that CWU members are prepared to take action to support their fellow workers who could be sacked due to the company's failure to manage properly. It is those same managers, only one of whom has been sacked, who continue to receive massive salary packages at the same time as low-paid agency workers lose their jobs.
While in the short term there is a need to organise to prevent workers from being thrown out of work, the BT announcement came only days after Virgin Media announced over 2,000 job cuts. The only real solution to the continuing failure of the market system to provide a secure telecoms and IT sector is to bring the industry back into public ownership, this time under democratic control.
---
>
The vultures are circling
I received a phone call the other day from the estate agent that arranged my current mortgage. The woman I spoke to said that they had been trawling their records since the credit crunch began checking that people had the correct products.
To be specific she noted that I didn't have redundancy cover on my mortgage and asked if I would be interested in it.
The fact that I work for BT will be on my customer file and this phone call came the day BT announced 10,000 job cuts. I don't believe that the phone call was randomly timed, it is much more likely that my mortgage provider was cynically trying to drum up business to restore their profits after the housing crash.
Capitalism messes things up, scares us and then aims to make money by taking advantage of the fear and insecurity caused. One more reason for nationalising the entire finance sector.
Clive Walder, Birmingham, Socialist Party
---




LATEST POSTS

WHAT'S ON

CONTACT US
Locate your nearest Socialist Party branch Text your name and postcode to 07761 818 206
Regional Socialist Party organisers:
Eastern: 079 8202 1969
East Mids: 077 3797 8057
London: 075 4018 9052
North East: 078 4114 4890
North West 079 5437 6096
South West: 077 5979 6478
Southern: 078 3368 1910
Wales: 079 3539 1947
West Mids: 024 7655 5620
Yorkshire: 077 0671 0041

ABOUT US

ARCHIVE
---

2019

2018

2017

2016

2015

2014

2013

2012

2011

2010

2009

2008

2007

2006

2005

2004

2003

2002

2001

2000

1999