Teaching assistants
---
Newham academy strikes spread to Cumberland school
Ian Pattison, East London Socialist Party
"Why would we want more privatisation?!" This is how the National Education Union (NEU) rep at Cumberland school in Newham, East London, closed the picket line meeting to stop the school becoming an academy. An enormous number of striking teachers and teaching assistants greeted pupils. A group of students shouted "good luck, good luck" and "fight the good fight".
Speakers were crowding to say a few words. One of them gave full support for the strike from the NEU national executive. Martin Powell-Davies, NEU London regional secretary, reported from unhelpful talks between management and the trade unions and quashed myths that academies improve education. One striking teacher said that if they don't have breakfast before they start work, they can come out at the end of the day realising they haven't had anything to drink or eat at all, because the workload is so heavy.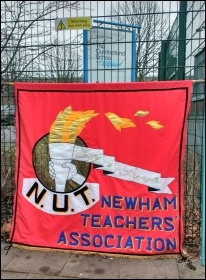 Newham NUT branch banner at the Cumberland School strike, 9.1.17, photo by James Ivens (Click to enlarge)
But Cumberland staff should be very confident they can win. A spate of Newham schools took strike action late last year. There's a growing mood in the borough that education must not be siphoned out of local control. A protest outside the next full council meeting was discussed. Its been reported that Labour councillors have voted in support of academies at local CLP meetings.
Newham is in the middle of the selecting councillors for the May 3rd council elections. If a new round of pro-academy Blairite councillors are selected, then campaigners may feel there is no choice but to stand against them in May to stop the tide of academies and austerity in Newham.
Donate to the Socialist Party
Finance appeal
The coronavirus crisis has laid bare the class character of society in numerous ways. It is making clear to many that it is the working class that keeps society running, not the CEOs of major corporations.
The results of austerity have been graphically demonstrated as public services strain to cope with the crisis.
The government has now ripped up its 'austerity' mantra and turned to policies that not long ago were denounced as socialist. But after the corona crisis, it will try to make the working class pay for it, by trying to claw back what has been given.
The Socialist Party's material is more vital than ever, so we can continue to report from workers who are fighting for better health and safety measures, against layoffs, for adequate staffing levels, etc.
When the health crisis subsides, we must be ready for the stormy events ahead and the need to arm workers' movements with a socialist programme - one which puts the health and needs of humanity before the profits of a few.
Inevitably, during the crisis we have not been able to sell the Socialist and raise funds in the ways we normally would.
We therefore urgently appeal to all our viewers to donate to our Fighting Fund.
---




LATEST POSTS

WHAT'S ON

15 Jun Bristol North Socialist Party: Education under capitalism

15 Jun Caerphilly & RCT Socialist Party: The socialist approach to the environment

15 Jun Brighton Socialist Party: Disability, neurodivergency, and the left

CONTACT US
Locate your nearest Socialist Party branch Text your name and postcode to 07761 818 206
Regional Socialist Party organisers:
Eastern: 079 8202 1969
East Mids: 077 3797 8057
London: 075 4018 9052
North East: 078 4114 4890
North West 079 5437 6096
South West: 077 5979 6478
Southern: 078 3368 1910
Wales: 079 3539 1947
West Mids: 024 7655 5620
Yorkshire: 078 0983 9793

ABOUT US

ARCHIVE
---

2020

2019

2018

2017

2016

2015

2014

2013

2012

2011

2010

2009

2008

2007

2006

2005

2004

2003

2002

2001

2000

1999