Trade Unionist and Socialist Coalition
---
Tories out!
Vote against austerity, privatisation and racism
Vote Trade Unionist and Socialist Coalition
Act against the Blairite saboteurs!
The Tories are on the run. For eight years Tory-led governments have tried to create a 'hostile environment' for all working class people.
Those who were born in other countries, or who are from ethnic minorities, have been on the sharp end - often facing, as has been writ large by the Windrush scandal, brutal racism and discrimination.
The Tories have adopted the tactics of divide and rule. They have attempted to disguise reality - that a tiny minority of billionaires have got richer under their rule while the vast majority suffer austerity - by falsely laying the blame for low pay, poverty and poor housing at the door of some of the poorest sections of the working class - above all migrants, but also single parents, the unemployed and others.
In doing so they have tried to create a climate in which public services can be destroyed. It is criminal that people who have lived in Britain for most of their lives have been refused NHS treatment, but it is not accidental. It is part of a conscious policy to move away from the basis on which the NHS was founded - that it should provide free at the point of use, high-quality healthcare for all who need it.
The huge wave of public support for those affected by the Windrush scandal shows that the Tories racist scapegoating has not worked. While some workers are worried about the scale of immigration, and are correctly angry at bosses attempting to use workers from other countries to lower wages in a 'race to the bottom', they have not swallowed the Tory lies. When faced with actual people - instead of abstract statistics - the vast majority of working and middle class people in Britain are opposed to racist measures.
Opportunity
Jeremy Corbyn now has the opportunity to build a movement - against austerity and racism and for public services - which could force May to call a general election. To do so, however, requires drawing a clear line between his leadership of the Labour Party and what came before. The Tories have only been able to get away with their racist scapegoating because in office pro-capitalist New Labour had already trodden the same path.
The term "create a hostile environment" was first used by Blairite Labour home secretary Alan Johnson. Only six Labour MPs voted against the final reading of the racist 2014 Immigration Act, which led to the Windrush scandal. Unsurprisingly they included Jeremy Corbyn, John McDonnell, and Diane Abbott.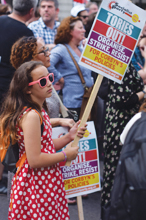 Tories out!, photo Mary Finch
Cuts and privatisation for the majority and tax cuts for the super-rich were also the norm under New Labour governments. Today Blairite councils around the country are implementing huge cuts to public services. That is why the Socialist Party is standing, as part of the Trade Unionist and Socialist Coalition, against some of the worst Blairite cutters at local level. Jeremy Corbyn needs to urgently use the local elections as a launch pad to force the Tories out and to transform Labour into an anti-austerity, anti-racist socialist party.
Ten months after the snap general election the right wing of the Labour Party is once again openly attacking Jeremy Corbyn so blatantly it is recognised even by capitalist commentators. As Independent columnist Andrew Grice put it: "Labour is two parties now. The pretence that Jeremy Corbyn and his centrist MPs belong in the same one has been shattered by recent events."
The popular support for Corbyn's programme in the snap general election temporarily stayed the hands of his opponents within the Labour Party. Unfortunately, much of the Labour left rushed to declare that the party was now more united than ever. But as we warned at the time, those in the pro-capitalist wing of the Labour Party were only biding their time and would once again declare war on Corbyn with whatever weapons they could find.
While the Tories are on the ropes for the untold misery their racist 2014 Immigration Act has caused the Windrush generation and others, the Blairites - who themselves did not oppose the 2014 act - have rushed to save May's skin. For them the priority is not attacking the Tories, but whipping up a storm - most recently with a debate in parliament - over alleged 'left wing anti-Semitism' under Jeremy Corbyn's leadership. The Socialist has previously pointed out that this issue is being used to attack Corbyn. Blairite MP Chuka Umunna put their case crudely on the Independent website, arguing "How can we... suggest racism lies behind the Tories' mistreatment of the Windrush generation when we don't get our own house in order?"
Umunna and his ilk would rather leave black and Asian workers in Britain facing continued Tory racism than see a Jeremy Corbyn-led government come to power. In taking that position they are representing the interests of the capitalist class who consider a Jeremy Corbyn-led government could not be relied on to defend their interests and are prepared to take whatever measures they can to split and weaken Corbyn's support base.
As we have repeatedly warned, making concessions to the pro-capitalist wing of the Labour Party, and attempting to conciliate with them, will only give them more power to try and defeat Corbyn. Not one inch should be conceded to them. Instead urgent measures are needed to completely transform the Labour Party into a mass socialist, working class party, with a revitalised trade union movement involved at its core through democratic, representative structures. Such measures must include mandatory reselection of MPs - which is vital to allow the workers' movement to choose MPs who act in its interests rather than the interests of the capitalist elite.
If such measures are not taken the Blairite sabotage of Corbyn's leadership will only grow. 52 of them abstained rather than support Corbyn's attempt to hold May to account for bombing Syria. Two weeks before 36 signed an early day motion attacking Corbyn over the Skripal affair. And at a certain stage they can go further still. Talk of a right-wing split from Labour to form a new party has been rumbling since Corbyn won the leadership.
Split?
The likely negative consequences for the Blairites' careers of founding a party based on support for war and privatisation has so far stayed their hands, but the rumbles are growing louder. As one anonymous Labour MP put it, "We can't go on like this. We've been sticking together for the sake of the kids. Now they're going off to uni and we've got to decide what to do." If they do go before a general election they will do so, despite the risk to their own careers, in order to try and split the Labour vote and prevent Corbyn becoming prime minister.
If they stay, formally at least, in Labour's ranks it will be in order to try and sabotage any attempts by a Corbyn government to take radical measures in defence of working class interests, splitting Labour at that stage if they consider if it is necessary to do so. The right wing could also do both - some exiting Labour while others remain in, at least for the time being.
It is therefore now well overdue - and extremely urgent - that the enthusiasm engendered by Jeremy Corbyn's leadership of the Labour Party is harnessed and mobilised in order to reclaim Labour from the pro-capitalist saboteurs who still dominate much of the party machine, the parliamentary Labour Party and local councils.
Donate to the Socialist Party
Coronavirus crisis - Finance appeal
The coronavirus crisis has laid bare the class character of society in numerous ways. It is making clear to many that it is the working class that keeps society running, not the CEOs of major corporations.
The results of austerity have been graphically demonstrated as public services strain to cope with the crisis.
The government has now ripped up its 'austerity' mantra and turned to policies that not long ago were denounced as socialist. But after the corona crisis, it will try to make the working class pay for it, by trying to claw back what has been given.
The Socialist Party's material is more vital than ever, so we can continue to report from workers who are fighting for better health and safety measures, against layoffs, for adequate staffing levels, etc.
Our 'fighting coronavirus workers' charter', outlines a programme to combat the virus and protect workers' living conditions.
When the health crisis subsides, we must be ready for the stormy events ahead and the need to arm workers' movements with a socialist programme - one which puts the health and needs of humanity before the profits of a few.
Inevitably, during the crisis we have not been able to sell the Socialist and raise funds in the ways we normally would.
We therefore urgently appeal to all our viewers to donate to our special coronavirus appeal.
---




LATEST POSTS

WHAT'S ON

CONTACT US
Locate your nearest Socialist Party branch Text your name and postcode to 07761 818 206
Regional Socialist Party organisers:
Eastern: 079 8202 1969
East Mids: 077 3797 8057
London: 075 4018 9052
North East: 078 4114 4890
North West 079 5437 6096
South West: 077 5979 6478
Southern: 078 3368 1910
Wales: 079 3539 1947
West Mids: 024 7655 5620
Yorkshire: 077 0671 0041

ABOUT US

ARCHIVE
---

2019

2018

2017

2016

2015

2014

2013

2012

2011

2010

2009

2008

2007

2006

2005

2004

2003

2002

2001

2000

1999