Energy
---
13 January 2014
Exploratory drillers told to "Frack Off"
Matt Kilsby
On Sunday, more than 500 activists, trade unionists and environmental campaigners joined a march and demonstration against fracking on Barton Moss in Salford.
The march was called in solidarity with anti-fracking campaigners that have been camping at the site - where IGas is carrying out exploratory drilling - for several months.
Whilst IGas have stated that they only plan to do "exploratory drilling" at the site, the company has estimated that there could be up to 170 trillion cubic feet (4,810 cubic km) of gas in the areas of northern England that it has a licence to explore.
If shale gas and methane are found in Barton Moss, then it is likely that fracking and drilling will begin at other sites in Salford and Greater Manchester.
And with the government's recent announcements and David Cameron's declaration that "we are going all out for shale" the fight to stop fracking in the UK is well and truly on. In a push to make it easier for companies to expand drilling and fracking operations across the country, the government intends to allow councils to keep 100% of business rates raised from fracking sites.

Cameron has also said that revenues from fracking could be paid in cash directly to homeowners living nearby. In his Autumn statement George Osborne announced the halving of tax levied on companies carrying out exploratory drilling.

These policy announcements are nothing more than the prostitution of the environment and the bribery of councils that are struggling to cope with the government's spending cuts. Councils and local planning authorities should be protecting the environment and the interests of local residents.

Such bribes would create a shocking conflict of interests and effectively mean the buying and selling of planning permission for fracking and drilling operations.
Link campaigns together
Over the past few weeks the police have tried to break up the protest camp by making numerous arrests and being heavy handed with protesters. As a number of speakers at the rally pointed out, at stake is the right to protest peacefully without harassment from the police.
Speaking from the platform at the rally Steve North, branch secretary of Salford City Unison, linked the struggle against fracking with the struggle against council cuts and austerity.
Last week Salford's Labour council announced devastating cuts of £23 million which will mean 300 workers being made redundant.
At the next demonstration against these cuts, we need to see trade unionists, workers and the people of Salford united and protesting alongside environmental campaigners and activists.
We want Salford's Labour council to tell IGas to frack off and refuse to implement Tory cuts that will devastate the city.
One protester from Salford told the Socialist: "I am here to safeguard the environment for my children. We do not want fracking in Salford or anywhere else. This protest camp has not been forced on Salford by outsiders; we fully support the protesters".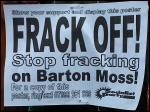 Members from the Socialist Party in Salford joined the protest and a number of people filled out cards to find out more about us and what campaigns we are active in across the city.
We also produced a leaflet and poster urging IGas to "Frack Off" - which proved very popular.
We say:
No to fracking. The Labour council must refuse any further planning permission.
For a mass movement of opposition, involving local trade unionists and residents' community campaigns, to close the site at Barton.
Take the profit out of energy production and distribution. For public ownership and democratic control of the Big Six and a socialist plan for energy production, distribution and pricing.
---
>
Protest against council cuts and fracking
Wednesday 15th January, 8.30am
Civic Centre, Manchester Road, Swinton, Salford
---
>
Salford Socialist Party public meeting
Wednesday 5th February, 7pm (venue TBC)
No to fracking in Salford
---
This version of this article was first posted on the Socialist Party website on 13 January 2014 and may vary slightly from the version subsequently printed in The Socialist.
Donate to the Socialist Party
Coronavirus crisis - Finance appeal
The coronavirus crisis has laid bare the class character of society in numerous ways. It is making clear to many that it is the working class that keeps society running, not the CEOs of major corporations.
The results of austerity have been graphically demonstrated as public services strain to cope with the crisis.
The government has now ripped up its 'austerity' mantra and turned to policies that not long ago were denounced as socialist. But after the corona crisis, it will try to make the working class pay for it, by trying to claw back what has been given.
The Socialist Party's material is more vital than ever, so we can continue to report from workers who are fighting for better health and safety measures, against layoffs, for adequate staffing levels, etc.
Our 'fighting coronavirus workers' charter', outlines a programme to combat the virus and protect workers' living conditions.
When the health crisis subsides, we must be ready for the stormy events ahead and the need to arm workers' movements with a socialist programme - one which puts the health and needs of humanity before the profits of a few.
Inevitably, during the crisis we have not been able to sell the Socialist and raise funds in the ways we normally would.
We therefore urgently appeal to all our viewers to donate to our special coronavirus appeal.
---




LATEST POSTS

WHAT'S ON

CONTACT US
Locate your nearest Socialist Party branch Text your name and postcode to 07761 818 206
Regional Socialist Party organisers:
Eastern: 079 8202 1969
East Mids: 077 3797 8057
London: 07748 534 891
North East: 078 4114 4890
North West 079 5437 6096
South West: 077 5979 6478
Southern: 078 3368 1910
Wales: 079 3539 1947
West Mids: 024 7655 5620
Yorkshire: 077 0671 0041

ABOUT US

ARCHIVE
---

2019

2018

2017

2016

2015

2014

2013

2012

2011

2010

2009

2008

2007

2006

2005

2004

2003

2002

2001

2000

1999