Fracking
---
Fracking protest in Sherwood Forest
On 7th January, with only a week's notice, over 300 people came together to protest against plans by chemical giant INEOS to carry out seismic surveys in Sherwood Forest - a move which marks a clear intent to frack in the area. The rally at the Major Oak on a cold winter's day brought together environmentalists, socialists and even Robin Hood himself to make their voices heard.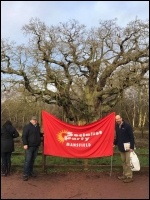 Socialist Party banner at the protest, photo Jane Crowter
The Tory government has introduced laws to assist the shale gas industry while simultaneously blocking the growth of renewable energy. Fracking has now been approved, but not yet begun, at three sites in England, however Sherwood Forest is the first forest to be targeted.
Fracking is destructive, causing damage to properties and polluting the water table. Members of the Socialist party from Mansfield to Coventry attended the protest to share our call for investment in clean energy - to create decent, skilled jobs, and to protect the environment - and for democratic, public ownership of the energy industry.
Jane Crowter, Coventry Socialist Students
---
This version of this article was first posted on the Socialist Party website on 12 January 2017 and may vary slightly from the version subsequently printed in The Socialist.
Donate to the Socialist Party
Finance appeal
The coronavirus crisis has laid bare the class character of society in numerous ways. It is making clear to many that it is the working class that keeps society running, not the CEOs of major corporations.
The results of austerity have been graphically demonstrated as public services strain to cope with the crisis.
The government has now ripped up its 'austerity' mantra and turned to policies that not long ago were denounced as socialist. But after the corona crisis, it will try to make the working class pay for it, by trying to claw back what has been given.
The Socialist Party's material is more vital than ever, so we can continue to report from workers who are fighting for better health and safety measures, against layoffs, for adequate staffing levels, etc.
When the health crisis subsides, we must be ready for the stormy events ahead and the need to arm workers' movements with a socialist programme - one which puts the health and needs of humanity before the profits of a few.
Inevitably, during the crisis we have not been able to sell the Socialist and raise funds in the ways we normally would.
We therefore urgently appeal to all our viewers to donate to our Fighting Fund.
---




LATEST POSTS

WHAT'S ON

CONTACT US
Locate your nearest Socialist Party branch Text your name and postcode to 07761 818 206
Regional Socialist Party organisers:
Eastern: 079 8202 1969
East Mids: 077 3797 8057
London: 075 4018 9052
North East: 078 4114 4890
North West 079 5437 6096
South West: 077 5979 6478
Southern: 078 3368 1910
Wales: 077 7221 5281
West Mids: 024 7655 5620
Yorkshire: 078 0983 9793

ABOUT US

ARCHIVE
---

2020

2019

2018

2017

2016

2015

2014

2013

2012

2011

2010

2009

2008

2007

2006

2005

2004

2003

2002

2001

2000

1999