Heathrow airport
---
Filter by importance | All results
---
14 August 2019

Summer of airline industry strikes against low pay and worsening conditions
August has seen a number of strikes threatened in the airline industry, in particular at Heathrow Airport but also at Gatwick Airport and potential industrial action by British Airways and Ryanair pilots. Strikes at Gatwick and Heathrow have been suspended because of improved offers.
30 May 2017

Workers warned boss of tech failure danger
Many BA passengers suffered cancelled flights over the bank holiday period
11 January 2017

Book review: Spy drama gives insight into capitalist coup plot
Fiction review: A Very British Ending: Rarely does a political spy novel contain so much historical fact, written in such a gripping manner as Edward Wilson's 'A Very British Ending'.
10 January 2017

Support BA cabin crews' strike for fair pay
British Airways cabin crew members of Unite are striking for 48 hours
2 November 2016

Heathrow expansion exposes Tory divisions
For an integrated, environmentally sound, socialist transport system: The recent decision by the cabinet to go ahead with building a third runway at Heathrow has enormous implications for workers at Heathrow and for the local communities. What view should socialists take?
9 March 2016

'Heathrow 13' climate activists avoid jail time
'Heathrow 13' climate activists have received suspended sentences for protesting against airport expansion.
3 February 2016

Arrested 'Heathrow 13' climate activist speaks
On 25 January, myself and 12 others were convicted of aggravated trespass and being in a restricted area of an airport without permission, writes The courts are making an example of climate protesters. 'Plane Stupid' activists face jail for demonstrating against third runway plans at London Heathrow airport last July. Melanie Strickland, one of the 'Heathrow 13', speaks in the Socialist..
28 May 2014

Workplace news in brief
Construction workers protest: NSSN members and other trade unionists joined construction workers on a day of action on 23 May
5 April 2011

Heathrow: Why Furious Workers Walked Out
BRITISH AIRWAYS (BA) staff at Heathrow airport walked out in a wildcat action on 18 July to prevent the company imposing an automated time management scheme (ATR)...
31 March 2010

BA cabin crew strike: 'We shall not be moved'
AS THE second round of strikes by British Airways (BA) cabin crew comes to a conclusion no-one within a ten mile radius of Heathrow could possibly be unaware of what is happening, writes Neil Cafferky.
21 January 2009

Opposing the expansion of Heathrow
The government's decision to give the go ahead for a third runway at Heathrow has dominated headlines in London, writes Neil Cafferky.
3 June 2008

Heathrow protest: Demonstrating against a third airport runway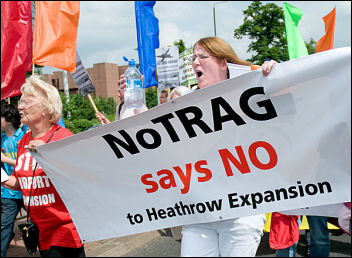 Heathrow runway expansion protests, photo Marc Vallée
Over 3,000 people marched from Hatton Cross to Sipson to demonstrate their opposition to a third runway at Heathrow airport, writes Neil Cafferky.
2 April 2008

Airports: Expanding profits at our expense
TWO HUNDRED flights cancelled in three days, 20,000 bags left behind and a three-hour wait to re-claim baggage on arrival, writes Mark Pickersgill.
30 August 2007

Heathrow expansion protests
A WEEK of protests against the proposed third runway at Heathrow airport culminated on 19 August in a demonstration along the proposed site and a blockade of Heathrow operator BAA's headquarters.... By Neil Cafferky
9 August 2003

Workers Win Against BA Bullies
A SENIOR shop steward at British Airways (BA) spoke to the socialist about the settlement reached with the company after the spontaneous strikes by check-in staff at Heathrow airport...




LATEST POSTS

WHAT'S ON

CONTACT US
Locate your nearest Socialist Party branch Text your name and postcode to 07761 818 206
Regional Socialist Party organisers:
Eastern: 079 8202 1969
East Mids: 077 3797 8057
London: 07748 534 891
North East: 078 4114 4890
North West 079 5437 6096
South West: 077 5979 6478
Southern: 078 3368 1910
Wales: 079 3539 1947
West Mids: 024 7655 5620
Yorkshire: 077 0671 0041

ABOUT US

ARCHIVE
---

2019

2018

2017

2016

2015

2014

2013

2012

2011

2010

2009

2008

2007

2006

2005

2004

2003

2002

2001

2000

1999