Campaigns

Organisations

Arguments for socialism

People

International

Events

Around the UK
---
---
All Arguments for socialism subcategories:
* Globalisation Anticapitalism
---
Globalisation Anticapitalism keywords:
McDonalds
---
18 April 2015
Global Fast Food Rights day of action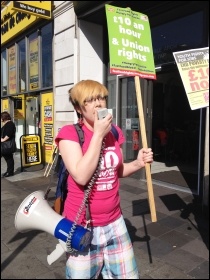 Helen Pattison, Youth Fight for Jobs, addressing protesters outside McDonalds, Marble Arch, London, 15.4.15, photo Judy Beishon (Click to enlarge)
Young people, trade unionists and campaigners protested on Wednesday 15th April against zero-hour contracts and for a £10/hour minimum wage.
As part of the global day of protest, including strikes across America, over 50 hotel and other low-paid workers protested outside McDonalds at Marble Arch in London at a protest organised by Unite the Union's hotel sector. Members of the bakers' union BFAWU also joined the protest.
Some campaigners had turned up early to speak to staff in McDonalds and give them leaflets about the campaign, but management had taken the material off the workers. It's a legal right to join a union, so taking material off staff is an attack.
After a demonstration outside, the protest occupied the McDonalds demanding to speak to the staff. Protesters were told by managers that they were breaking the law.
But protesters thought: They are hardly the ones to talk! There have been plenty of allegations about McDonalds engaging in wage theft and union busting - which are illegal.
The protest agreed to end the occupation if a representative from the campaign could speak to staff one by one about trade union rights and why they should join a union.
I [Helen Pattison from Youth Fight or Jobs] was allowed to speak to all the staff about this. This was just the first piece of action today across London.
Helen Pattison
---
Manchester
Fast Food Rights supporters in Greater Manchester, following our very successful local day of action on 21 February, paid a visit to McDonalds' northern regional office on Cross Lane in Salford, and after registering our protest there we leafleted the McDonalds outlet next door.
Participating in the demonstration were BFAWU members, socialists, students, and local trade unionists from a range of unions.
Our next action will be participating in the Greater Manchester May Day events on Saturday 2nd May, see https://mtuc.wordpress.com/ for details.
Hugh Caffrey
Swansea
Tower Hamlets, London
The Fast Food Rights day of action was enthusiastically supported in Tower Hamlets, East London. Students at Poplar College immediately responded to the demands raised, since so many are forced to work to survive and are being super-exploited on zero-hours contracts and the minimum wage.
Quite a buzz developed as word got around among students and staff. Both the TUSC parliamentary candidates for Tower Hamlets came along to promote the day of action.
After the protest at the college, the Fast Food Rights campaigners went into the shops at the nearby Chrisp Street market and approached the workers there to persuade them to join a union.
Pete Dickenson
Leicester
Glasgow
Nearly 100 people took part in Fast Food Rights protests in Glasgow on 15th April that went on for the whole afternoon. As well as the bakers' union (BFAWU), there were activists and banners from Unite, Unison, Youth Fight for Jobs, Socialist Party Scotland (SPS) and others.
Activists marched round the city shopping areas and went into McDonalds and KFC to protest and talk to fast food workers. Four workers joined the BAFWU while the action was going on, from fast food restaurants and a local hotel chain.
Hundreds of shoppers, many of them young people, signed up for information on the campaign for £10 an hour, an end to zero-hour contracts and for trade union rights.
SPS and Unite 'young member' activist Jamie Cocozza - who is also a TUSC candidate for Glasgow North East - spoke on the struggles of fast food workers internationally and the struggle against zero-hour contracts in his own workplace and called for the whole trade union movement to take up the struggle for £10 an hour.
Matt Dobson and Bryan Boyle
Sheffield
Southampton
Trade unionists, TUSC campaigners and fast food workers were out in force at two McDonalds in Southampton. Passers by were outraged by the use of zero hours contracts - they were branded "slave labour".
Meanwhile the workforce at a variety of fast food chains received leaflets from campaigners explaining why they should join a union.
The BBC blackout for TUSC was briefly broken as we were mentioned by name in a piece on South Today.
Liverpool
The protest rally on 15th April outside Liverpool's 'flagship' McDonalds was addressed by former Liverpool city councillor and TUSC parliamentary candidate for Liverpool Riverside, Tony Mulhearn.
As crowds swelled and passers-by queued to sign the petition, Tony attacked the record of the main political parties - for allowing big business to get away with "scandalous levels" of poverty pay.
"We are living in food bank Britain" said Tony. "Working people are being paid a pittance and the bosses are raking in unprecedented profits. This protest is about fighting for the right to dignity for ordinary workers, and especially for the next generation".
Leeds
In Leeds, Youth Fight for Jobs worked closely with members of the local Greggs of Yorkshire branch of the Baker's Food and Allied Workers' Union (BFAWU) to plan our day of action. Eight members of BFAWU joined the protest on the day, alongside members of Unite Community.
A week beforehand we had gone round leafleting fast food workplaces in the city centre. We managed to cover almost every fast food workplace in the city centre.
On the day itself we spoke to loads of people working insecure hours or zero-hour contracts about trying to organise and join a union. Low paid young workers spoke through our PA system, explaining their situation and encouraging those passing by and listening to support the campaign.
Iain Dalton, Leeds Youth Fight for Jobs
Donate to the Socialist Party
Finance appeal
The coronavirus crisis has laid bare the class character of society in numerous ways. It is making clear to many that it is the working class that keeps society running, not the CEOs of major corporations.
The results of austerity have been graphically demonstrated as public services strain to cope with the crisis.
The government has now ripped up its 'austerity' mantra and turned to policies that not long ago were denounced as socialist. But after the corona crisis, it will try to make the working class pay for it, by trying to claw back what has been given.
The Socialist Party's material is more vital than ever, so we can continue to report from workers who are fighting for better health and safety measures, against layoffs, for adequate staffing levels, etc.
When the health crisis subsides, we must be ready for the stormy events ahead and the need to arm workers' movements with a socialist programme - one which puts the health and needs of humanity before the profits of a few.
Inevitably, during the crisis we have not been able to sell the Socialist and raise funds in the ways we normally would.
We therefore urgently appeal to all our viewers to donate to our Fighting Fund.
---




LATEST POSTS

WHAT'S ON

CONTACT US
Locate your nearest Socialist Party branch Text your name and postcode to 07761 818 206
Regional Socialist Party organisers:
Eastern: 079 8202 1969
East Mids: 077 3797 8057
London: 075 4018 9052
North East: 078 4114 4890
North West 079 5437 6096
South West: 077 5979 6478
Southern: 078 3368 1910
Wales: 077 7221 5281
West Mids: 024 7655 5620
Yorkshire: 078 0983 9793

ABOUT US

ARCHIVE
---

2020

2019

2018

2017

2016

2015

2014

2013

2012

2011

2010

2009

2008

2007

2006

2005

2004

2003

2002

2001

2000

1999