---
Filter by importance | All results
---
10 March 2010

Youth Fight for Jobs demonstrations
19 March 2008

Anger and strength in the DWP workplaces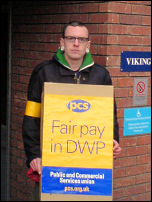 DWP members strike on 17 - 18 march 2008
ON 17 and 18 March, members of the civil service union PCS in the Department for Work and Pensions (DWP) were on strike for the second time against the imposition of a three year pay offer. Regional reports.
6 February 2008

Victory! Hull youth workers save jobs
YOUTH WORKERS in Hull are celebrating after taking on hypocritical, incompetent management and winning a battle for their jobs.... By Rob Rooney, Hull Socialist Party
19 July 2007

Postal workers - fighting low pay, against privatisation and job cuts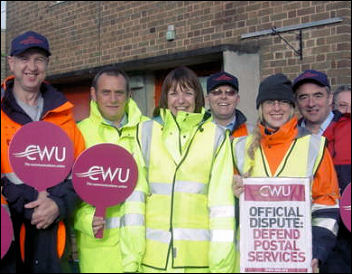 Postal workers on strike, photo Socialist Party
Royal Mail postal workers held a second successful 24-hour strike, that started at 7pm on Thursday 12 July. Delivery and sorting offices throughout the country were brought to a halt, as the workers' anger against low pay, job losses and other cuts made itself felt.
19 July 2007

Can flood relief get Hull back on its feet?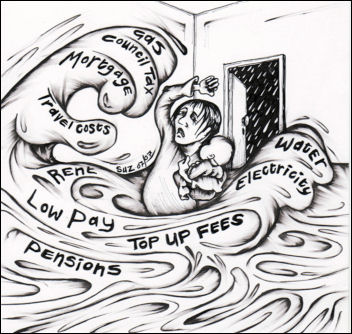 Flooded with Debt, cartoon by Suz at www.squashdonkey.co.uk
"IT'S A drop in the ocean," was how one woman responded to the announcement that Hull would receive £2.1 million in immediate flood relief from the government...
31 May 2007

Hull UNISON takes historic step
"NEVER AGAIN will social-worker UNISON members in Hull be run by the council's personnel department." As I said these words, spontaneous applause broke out as a 100-strong meeting of childcare workers realised they had mad...
17 July 2004

"Low Pay No Way, Council Workers Here To Stay"
FURIOUS HULL council workers halted the Lord Mayor's parade in a protest against huge wage cuts...




LATEST POSTS

WHAT'S ON

CONTACT US
Locate your nearest Socialist Party branch Text your name and postcode to 07761 818 206
Regional Socialist Party organisers:
Eastern: 0798 202 1969
East Mids: 0773 797 8057
London: 020 8988 8786
North East: 0191 421 6230
North West 07769 611 320
South East: 020 8988 8777
South West: 07759 796 478
Southern: 07833 681910
Wales: 07935 391 947
West Mids: 02476 555 620
Yorkshire: 0114 264 6551

ABOUT US

ARCHIVE
---

2017

2016

2015

2014

2013

2012

2011

2010

2009

2008

2007

2006

2005

2004

2003

2002

2001

2000

1999