ID cards
---
Filter by importance | All results
---
24 February 2010

ID cards - an expensive threat to civil liberties
NEW LABOUR has brought in several pieces of repressive legislation recently that attack our civil liberties but at least they've abandoned the unpopular plan for compulsory ID cards, haven't they, writes Tom Baldwin.
28 May 2008

'Counter-terrorism' legislation threatens our democratic rights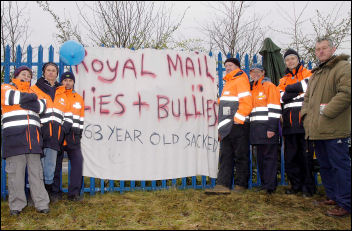 Postal workers trampled on the anti-trade union laws
Feature:
The government's proposal to extend the period the police can hold suspects without charge to 42 days, will be presented to parliament in the next few weeks. ANNA LUCAS explains that, far from being a step in the right direction, these new laws, and other 'anti-crime' measures over recent years, amount to a major and unjustified attack on our democratic rights.
2 April 2008

ID cards: No to students being used as guinea pigs!
Home Secretary Jacqui Smith recently announced plans for ID cards to be introduced on a 'voluntary' basis for certain groups, including students, writes Steve Sweeney, Cambridge Socialist Students.
16 February 2006

ID cards: 'Creeping compulsion' and grovelling MPs
YET ANOTHER threatened 'backbench revolt' on identity (ID) cards by Labour MPs fizzled out on 13 February after some minor concessions swayed most 'rebels'...
2 June 2005

ID cards: £300 for a snooper's card!
THE GOVERNMENT'S plans for compulsory identity (ID) cards are an attack on our democratic rights...
26 May 2005

Our rights under attack
LABOUR'S REDUCED majority in their third term seems to have done nothing to curb their zeal for introducing anti-working-class, anti-democratic legislation...
4 December 2004

Blair's election strategy threatens democratic rights
NEW LABOUR'S general election strategy is now clear. They say "vote Labour" for tough measures on law and order and to fight the 'war on terror'...
27 November 2004

Queen's speech: New Labour's terror card
THE ANNUAL fancy-dress opening of Parliament, the Queen's Speech, showed that New Labour wants to divert voters' gaze away from issues such as education and the NHS...
1 May 2004

ID Cards - Working Class People Will Pay The Price
David Blunkett has declared that the population of Britain isn't 'allowed' to know how much his ID card scheme will cost, for reasons of 'commercial secrecy'! ...
5 July 2002

Making Criminals Out Of Us All
HOME SECRETARY David Blunkett hopes to introduce Identity (ID) Cards which we would have to carry to gain access to public services such as health, benefits and education, writes By John Reid.




LATEST POSTS

WHAT'S ON

21 Sep Caerphilly & RCT Socialist Party: Arguments against socialism - Ask, answer, debate

22 Sep Hackney & Islington Socialist Party: Council budgets & People's Budgets

22 Sep Southampton Socialist Party: United struggle against racism and oppression

CONTACT US
Locate your nearest Socialist Party branch Text your name and postcode to 07761 818 206
Regional Socialist Party organisers:
Eastern: 079 8202 1969
East Mids: 077 3797 8057
London: 075 4018 9052
North East: 078 4114 4890
North West 079 5437 6096
South West: 077 5979 6478
Southern: 078 3368 1910
Wales: 077 7221 5281
West Mids: 024 7655 5620
Yorkshire: 078 0983 9793

ABOUT US

ARCHIVE
---

2020

2019

2018

2017

2016

2015

2014

2013

2012

2011

2010

2009

2008

2007

2006

2005

2004

2003

2002

2001

2000

1999