Charles Darwin
---
Filter by importance | All results
---
11 November 2015

Revolutionary themes in games
Comment - Assassin's Creed Syndicate: Numerous themes of revolution and mass struggles in recent entertainment show the politically volatile nature of the period we are living in.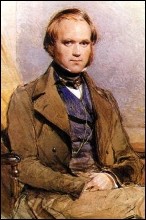 Water-colour portrait of Charles Darwin painted by George Richmond in the late 1830s, photo George Richmond
9 December 2009

The legacy of Charles Darwin
150 years since the publication of On the Origin of Species: Charles Darwin's theory of 'natural selection' changed the way that we look at ourselves. It contradicted the idea of an outside 'intelligent designer', so it met a reaction from the religious establishment.
In this feature, ROY FARRAR marks this year's bicentenary of Darwin's birth and the 150th anniversary of the publication of his book On the Origin of Species by summarising some of Darwin's ideas and their significance.




LATEST POSTS

WHAT'S ON

15 May Birmingham Socialist Party: How can we fight for socialist change and a new workers' party?

17 May Oxfordshire & Aylesbury Socialist Party: The role of the state

18 May Bristol North Socialist Party: Liverpool - history of socialist struggle

CONTACT US
Locate your nearest Socialist Party branch Text your name and postcode to 07761 818 206
Regional Socialist Party organisers:
Eastern: 079 8202 1969
East Mids: 077 3797 8057
London: 075 4018 9052
North East: 078 4114 4890
North West 079 5437 6096
South West: 077 5979 6478
Southern: 078 3368 1910
Wales: 079 3539 1947
West Mids: 024 7655 5620
Yorkshire: 078 0983 9793

ABOUT US

ARCHIVE
---

2020

2019

2018

2017

2016

2015

2014

2013

2012

2011

2010

2009

2008

2007

2006

2005

2004

2003

2002

2001

2000

1999