ISR
---
Tony Blair takes the biscuit...
...so let's give him one at schools and colleges around the country!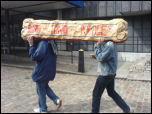 Many young people see Tony Blair as a poodle to the foreign policy of warmonger George Bush.
Matt Dobson
So last weekend 10 London ISR members turned up at Downing Street with a huge dog bone for Tony "the Poodle" Blair.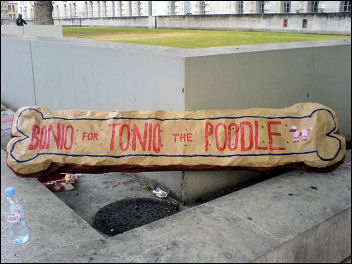 Blair may also be getting some dog biscuits through the mail this week as we handed out little packages with a Bonio for Tonio addressed to 10 Downing Street to all the people who are disgusted with his support for US imperialism, and its wars in Iraq and Afghanistan, and Israel's onslaught in Lebanon.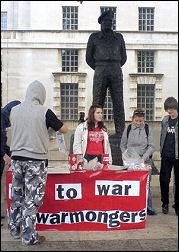 As well as generating a laugh with the stunt there was a lot of interest in our leaflets on the Middle East crisis and some young people stopped for long discussions about the situation there.
We then had a meeting in a café with young people who were interested in finding out more about ISR and the Socialist Party, discussing everything from socialist ideas to the environment and women's rights.
One person agreed to join ISR and the Socialist Party and is interested in setting up an ISR group in her college.
We found that this stunt was very useful in discussing with young people - other areas could consider using the Poodle Stunt for the new term.
Make your plans now for the first week of the new term. With the national anti-war demo on 23 September we will be going to the students in the sixth forms and further education colleges to build the anti-war movement.
We also need to meet and discuss the socialist alternative with all of those young people who are not only fed up with the warmongers but also with the system that creates war, poverty and exploitation.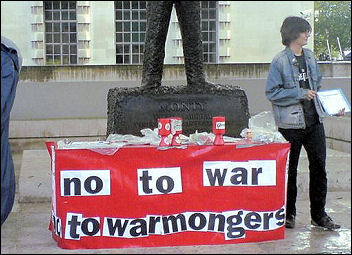 ---




LATEST POSTS

WHAT'S ON

CONTACT US
Locate your nearest Socialist Party branch Text your name and postcode to 07761 818 206
Regional Socialist Party organisers:
Eastern: 079 8202 1969
East Mids: 077 3797 8057
London: 07748 534 891
North East: 078 4114 4890
North West 079 5437 6096
South West: 077 5979 6478
Southern: 078 3368 1910
Wales: 079 3539 1947
West Mids: 024 7655 5620
Yorkshire: 077 0671 0041

ABOUT US

ARCHIVE
---

2019

2018

2017

2016

2015

2014

2013

2012

2011

2010

2009

2008

2007

2006

2005

2004

2003

2002

2001

2000

1999