ISR
---
Thousands show their hatred for racism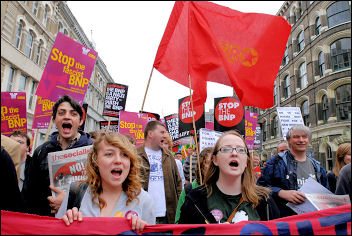 Love Music Hate Racism demonstration 2008, ISR contingent, photo Paul Mattsson
On Saturday 21 June several thousand people marched against the far-right, racist British National Party (BNP) on the Love Music Hate Racism demonstration.
Kat Jayawant and Sarah Sachs-Eldridge
The march was made up of socialists, trade unionists and young people angry at the racist stance of the BNP and their recent electoral successes. It was called after the election of BNP member, Richard Barnbrook, to the Greater London Assembly.
The contingent around International Socialist Resistance (ISR) and the Socialist Party was one of the loudest groups on the demonstration. Our slogans calling for "jobs, homes and services not racism" and "to fight back and organise" against the BNP's racist lies were well received with other groups joining in.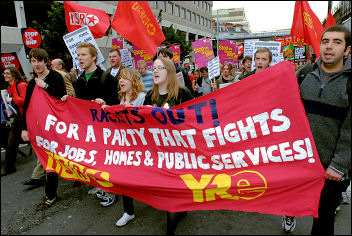 Love Music Hate Racism demonstration 2008, ISR contingent, photo Paul Mattsson
We highlighted the need for a real political alternative and publicised the Campaign for a New Workers' Party national conference.
Several young people, new to demonstrating, were inspired by the march and impressed by the enthusiasm of the ISR contingent. Showing a serious interest in getting involved in campaigning against the BNP and on other issues, they filled in cards to join ISR and the Socialist Party.
The BNP have taken the opportunity, in the absence of a mass workers' party, to pose as an alternative to the main capitalist parties. They pose as an alternative to the parties of cuts and privatisation.
But they are no such thing. In many areas such as Stoke and Burnley their elected councillors have voted for cuts or abstained from votes.
The demonstration was a step towards building an anti-racist movement and re-starting the debate on how to counter racism and the BNP. But it is important to build on it, to oppose the BNP's racist, homophobic and sexist lies wherever they appear, to build a real political alternative and to fight for socialism.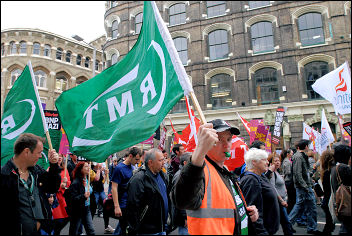 RMT banners on the Love Music Hate Racism demonstration 2008, photo Paul Mattsson
The next event for anti-racists and socialists is the protest to stop the BNP's 'Red, White & Blue' festival in Derbyshire.
A national protest and demonstration has been called for Saturday 16 August at Codnor, Denby Lane, Derbyshire, ten minutes drive from Junction 26 of the M1. Don't let this 'festival' go unchallenged.
Get in touch with ISR at anticapitalism@hotmail.co.uk or on 020 8558 7947.
---




LATEST POSTS

WHAT'S ON

CONTACT US
Locate your nearest Socialist Party branch Text your name and postcode to 07761 818 206
Regional Socialist Party organisers:
Eastern: 079 8202 1969
East Mids: 077 3797 8057
London: 075 4018 9052
North East: 078 4114 4890
North West 079 5437 6096
South West: 077 5979 6478
Southern: 078 3368 1910
Wales: 079 3539 1947
West Mids: 024 7655 5620
Yorkshire: 077 0671 0041

ABOUT US

ARCHIVE
---

2019

2018

2017

2016

2015

2014

2013

2012

2011

2010

2009

2008

2007

2006

2005

2004

2003

2002

2001

2000

1999