---
Filter by importance | All results
---
16 July 2014

SWP's Marxism: absence of serious debate and strategy
'Marxism', the annual 'festival of ideas' hosted by the Socialist Workers Party, does not have a good record for open and democratic discussion
14 January 2013

Party & Internal regime
The clash between the central leadership of the IST - notably the Socialist Workers Party - and their one-time American 'section' the International Socialist Organisation (ISO) also highlighted the deficiencies in their intervention in mass movements...
14 January 2013

Historical Roots of the SWP
The SWP today finds its ideological roots in post-1945 British Trotskyism, which split into three main trends...
14 January 2013

Introduction
The Socialist Party in England and Wales, and the Socialist Workers Party (SWP) are the two largest organisations on the 'Marxist left' in Britain...
14 January 2013

Preface
World capitalism and, along with it, diseased British capitalism have entered its worst period of crisis since the Great Depression of the 1930s...
17 December 2010

SWP argues for 200 mile divide between students and workers
One of the key questions facing the education movement is how it relates to workers, trade unions and the wider anti-cuts movement as a whole, writes Ben Robinson, Chair, Youth Fight for Jobs.
21 January 2009

What's going on? The meanderings of a comic mind in confusion, by Mark Steel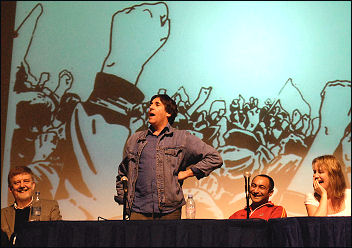 Mark Steel at Socialism 2008, photo Paul Mattsson
Mark Steel was one of the new wave of political ('alternative') comedians who emerged in the late 1970s and early 1980s, writes Ken Douglas.
18 November 2008

Videos of the debate between the Socialist Party and the SWP
Debate about where the Socialist Party and the SWP disagree on policy and tactics but also on what basis it would be possible to collaborate in the future.
11 March 2008

The PCS, the CWU dispute, and the struggle for public sector workers' unity
New Labour's co-ordinated attack on the public sector has not, to date, been met by co-ordinated action by the public sector unions, despite the best efforts of the left-led PCS civil servants union. PCS national executive committee member JOHN MCINALLY replies in a personal capacity to allegations published by the Socialist Workers Party (SWP) that the PCS leadership blocked the possibility of public sector unity in the recent CWU postal workers' dispute. This article was first published in Socialism Today March 2008.




LATEST POSTS

WHAT'S ON

CONTACT US
Locate your nearest Socialist Party branch Text your name and postcode to 07761 818 206
Regional Socialist Party organisers:
Eastern: 0798 202 1969
East Mids: 0773 797 8057
London: 020 8988 8786
North East: 0191 421 6230
North West 07769 611 320
South East: 020 8988 8777
South West: 07759 796 478
Southern: 07833 681910
Wales: 07935 391 947
West Mids: 02476 555 620
Yorkshire: 0114 264 6551

ABOUT US

ARCHIVE
---

2017

2016

2015

2014

2013

2012

2011

2010

2009

2008

2007

2006

2005

2004

2003

2002

2001

2000

1999