Ricky Tomlinson
---
Filter by importance | All results
---
6 March 2019

Women workers' militancy during the 'great unrest'
Townsend Productions' new folk ballad "Rouse Ye Women" follows events in the 1910 chainmakers' ten-week strike in Cradley Heath, the Black Country.
18 October 2017

Conference on state spies: who's watching who?
It is clear undercover surveillance of trade unionists and left activists has taken place - contrary to the myth that it couldn't happen in Britain.
11 October 2017

Who's watching who?: The fight for justice, trade union and democratic rights
For almost 100 years a secret ban was operated to deny jobs to thousands of workers involved in trade union activity
28 September 2016

Newcastle: Socialist Party defies ban to counter the far-right
Socialist Party members from Tyneside defied an outrageous ban imposed by Newcastle Unites (NU) to join a counter-demo against the far-right English Defence league on 24 September. With our Socialist Party banner and placards held high we were the most distinct group on the march.
12 November 2014

Theatre Review: United We Stand
It is the summer of 1972, two years into a Tory government, and building workers take strike action against the 'Lump' - the use of cash-in-hand non-union labour in the building industry, writes Reviewed by Kate Jones, Socialist Party Wales.
19 December 2012

Support the Shrewsbury pickets
Ricky Tomlinson's announcement that the Justice for the Shrewsbury Pickets Campaign has launched a petition to secure the release of state documents, deserves maximum support...
4 April 2012

Workplace In brief
Bus workers ballot: In a consultative ballot, nine out of ten bus workers, members of Unite, have voted for industrial action to back their claim for an Olympic payment...
16 February 2011

Workplace news in brief
Tata steelworks cleaners' strike: Around 70 contract cleaners, working for OCS at the Tata Steelworks in Port Talbot, South Wales are taking part in two days of strike action in a dispute over pay...
10 March 2010

Justice for the Shrewsbury pickets
In 1972, 31 pickets were arrested and put on trial in Shrewsbury, 24 were convicted. The Tory government was trying to wreak revenge on striking building workers, after being given a bloody nose by the...
8 July 2009

Demanding justice for Shrewsbury 24
Around 400 trade unionists marched through Shrewsbury on Saturday 4 July in pursuit of justice for the 24 building workers who were put on trial in 1973 following their successful 1972 building workers strike, writes Dave Griffiths and Andy Ford.
20 May 2008

Belfast airport workers: Union leaders' broken promises
Three sacked Belfast Airport shop stewards, members of Unite (T&G), have resumed their protest to achieve payment of legal costs and hardship money from their union, writes Kevin Parslow.
19 May 2008

Hunger Strike by Belfast airport workers
is direct responsibility of Unite joint general secretary Tony Woodley.
4 April 2007

One Life: Ricky Tomlinson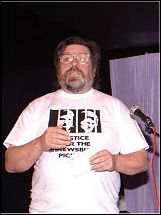 Review:
Based on the events of the jailing of Ricky Tomlinson and Des Warren by the Heath government in 1972, this programme gripped you by the throat from the outset, writes Tony Mulhearn ...
22 February 2007

Justice for the Shrewsbury pickets
WELL KNOWN actor and former industrial militant, Ricky Tomlinson, spoke at the highly successful Campaign for a New Workers' Party meeting in Liverpool on 12 February...




LATEST POSTS

WHAT'S ON

3 Mar Hackney & Islington Socialist Party: Financing the Socialist Party

4 Mar West London Socialist Party: Dialectical materialism - a theory of change

4 Mar East London Socialist Party: A fighting programme for women's rights and socialism

CONTACT US
Locate your nearest Socialist Party branch Text your name and postcode to 07761 818 206
Regional Socialist Party organisers:
Eastern: 079 8202 1969
East Mids: 077 3797 8057
London: 075 4018 9052
North East: 078 4114 4890
North West 079 5437 6096
South West: 077 5979 6478
Southern: 078 3368 1910
Wales: 079 3539 1947
West Mids: 024 7655 5620
Yorkshire: 077 0671 0041

ABOUT US

ARCHIVE
---

2020

2019

2018

2017

2016

2015

2014

2013

2012

2011

2010

2009

2008

2007

2006

2005

2004

2003

2002

2001

2000

1999