---
Filter by importance | All results
---
14 September 2009

The State and Revolution. Postscript
The subject indicated in the title of this chapter is so vast that volumes could be written about it, writes The Author.
7 July 2009

Stalin's Nemesis: The Exile and Murder of Leon Trotsky
Review: An account of Trotsky's last years in exile in Mexico, during his heroic struggles against Stalinism, fascism and capitalism, and, pertinently, during the last great economic crisis, is to be welcomed, Reviewed by Niall Mulholland
29 November 2007

Preparing a revolution and its party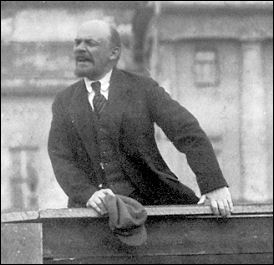 Lenin making a speech
NINETY YEARS ago the Russian workers removed capitalism and began building the world's first workers' government...
By Hugh Caffrey
12 July 2007

The 'July days' - rich in lessons for today
Following previous articles on the 1917 February revolution and the April Days, PETER TAAFFE now moves on to the 'July Days'....
28 June 2007

Rehabilitating Stalin?
Review by Peter Taaffe of Young Stalin by Simon Sebag Montefiore: "Lenin shot by Trotsky in drunken brawl". This was a headline, not from the gutter press but from a so-called 'quality' US capitalist newspaper in...
3 May 2007

Russia April 1917: Lenin returns from exile
2007 is the ninetieth anniversary of the 1917 Russian revolution. To mark this, the socialist is running a series of articles looking at the events of...
15 March 2007

February revolution 1917 - what lessons for today?
23 FEBRUARY 1917 (8 March in the new style Gregorian calendar) marked the beginning of the socialist revolution in Russia that sparked a revolutionary wave that would travel around the world. PETER TAAFFE analyses the lessons of February for the working class today.
11 October 2002

Who Really Fought Stalin's Dictatorship?
A NEW book by the novelist Martin Amis entitled "Koba the Dread: Laughter and the twenty million" has created a stir in the world of politics as well as literature, writes Jim Hensman.
20 September 2002

Imperialism: the Highest Stage of Capitalism - V I Lenin
THE WARMONGERING of George Bush and Tony Blair over Iraq, the recent failure of the Earth Summit to stop environmental destruction, huge corporate scandals and the mass anti-globalisation protests around the world, have all generated discussion on the pernicious role of global capitalism or what Mar, writes This socialist classic is reviewed by Jane James.
26 May 2000

Lenin's lasting legacy
Review: Lenin: A biography by Robert Service. Published by Macmillan, and reviewed by MARK WAINWRIGHT...




LATEST POSTS

WHAT'S ON

CONTACT US
Locate your nearest Socialist Party branch Text your name and postcode to 07761 818 206
Regional Socialist Party organisers:
Eastern: 0798 202 1969
East Mids: 0773 797 8057
London: 020 8988 8786
North East: 0784 114 4890
North West 07769 611 320
South East: 020 8988 8777
South West: 07759 796 478
Southern: 07833 681910
Wales: 07935 391 947
West Mids: 02476 555 620
Yorkshire: 0114 264 6551

ABOUT US

ARCHIVE
---

2017

2016

2015

2014

2013

2012

2011

2010

2009

2008

2007

2006

2005

2004

2003

2002

2001

2000

1999