Materialism
---
Filter by importance | All results
---
17 October 2018

The renewed relevance of Engels' classic Socialism: Utopian and Scientific
This short pamphlet by Friedrich Engels is, along with the Communist Manifesto, one of the best and most significant introductions to Marxism. It greatly adds to our understanding of the roots of socialism and the tasks of the working class to fundamentally change society.
20 February 2008

Science, Marxism and the big bang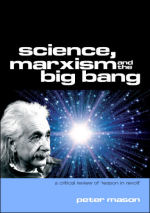 Science, Marxism and the Big Bang
Reviewed by Roy Farrar.
Science, Marxism and the Big Bang
by Peter Mason is written in a style that may not be familiar to the modern reader - that is, of a polemical presentation.
In certain critical reviews this is necessary in order to follow the arguments as laid out by the authors being criticised and to more fully refute and correct them.




LATEST POSTS

WHAT'S ON

21 Sep Caerphilly & RCT Socialist Party: Arguments against socialism - Ask, answer, debate

22 Sep Hackney & Islington Socialist Party: Council budgets & People's Budgets

22 Sep Southampton Socialist Party: United struggle against racism and oppression

CONTACT US
Locate your nearest Socialist Party branch Text your name and postcode to 07761 818 206
Regional Socialist Party organisers:
Eastern: 079 8202 1969
East Mids: 077 3797 8057
London: 075 4018 9052
North East: 078 4114 4890
North West 079 5437 6096
South West: 077 5979 6478
Southern: 078 3368 1910
Wales: 077 7221 5281
West Mids: 024 7655 5620
Yorkshire: 078 0983 9793

ABOUT US

ARCHIVE
---

2020

2019

2018

2017

2016

2015

2014

2013

2012

2011

2010

2009

2008

2007

2006

2005

2004

2003

2002

2001

2000

1999