Mcdonald
---
Filter by importance | All results
---
10 April 2015

Fast Food Rights action - 15th April
On Wednesday 15th April, fast food and other low-paid workers in the USA will be taking part in what could be the biggest day of strikes, occupations and protests yet in their fight for a $15/hour minimum wage
8 April 2015

Low pay? No way!
Employers around the country - large and small, including the public sector - have created a culture of despair. Poverty pay means millions cannot afford the basics they need for a decent life

29 August 2014

Fast Food Rights: 'Get the lady in the pink T-shirt out of here!'
Activists from the BFAWU union and YFJ took part in a day of action
7 March 2012

Clegg receives anti-workfare message in Cardiff
Youth Fight for Jobs and Cardiff Trades Council demonstrated outside the Welsh Liberal Democrats spring conference on Saturday to oppose the government's workfare scheme
29 February 2012

McWorkfare - "Let's campaign until it's stopped completely"
On Monday protesters were at McDonald's in Sheffield to voice disgust at the Con-Dems' forced labour schemes. Also read on for reports from Leeds, Birmingham and Wakefield
17 November 2010

Tories promote fast food nation
MUCH OF the nation's unhealthy consumption of sugar, salt, transfats, saturated fats, and alcohol is down to the promotion of products containing them by the giant corporations that dominate the food and drink industry...
31 May 2007

No to McJobs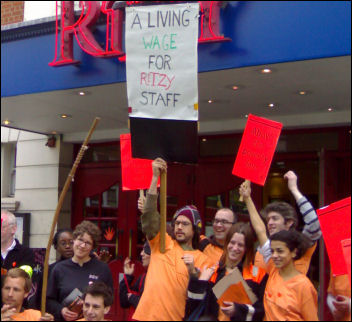 On the picket line at the Ritzy
WORKERS AT Brixton's famous Ritzy cinema in south London were on strike on 26 May, aiming to secure themselves a living wage.
23 March 2006

Fight privatisation in universities and colleges
Socialist Students are campaigning for a fighting and democratic NUS...
18 September 2004

Big Macs Can Seriously Damage Your Health
Review: Super Size Me: THIS IS a brilliant, fast-paced, polemical movie aimed against McDonald's and the entire big business food industry. Film maker, Morgan Spurlock, investigates the physical, financial and legal costs of America's huge fast food diet...




LATEST POSTS

WHAT'S ON

CONTACT US
Locate your nearest Socialist Party branch Text your name and postcode to 07761 818 206
Regional Socialist Party organisers:
Eastern: 079 8202 1969
East Mids: 077 3797 8057
London: 075 4018 9052
North East: 078 4114 4890
North West 079 5437 6096
South West: 077 5979 6478
Southern: 078 3368 1910
Wales: 079 3539 1947
West Mids: 024 7655 5620
Yorkshire: 077 0671 0041

ABOUT US

ARCHIVE
---

2019

2018

2017

2016

2015

2014

2013

2012

2011

2010

2009

2008

2007

2006

2005

2004

2003

2002

2001

2000

1999