Coventry Hospital
---
Filter by importance | All results
---
27 September 2007

Scrap PFI!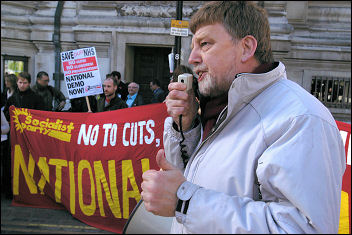 Coventry Councillor Dave Nellist on NHS demonstration 1st November 2006. Photo Paul Mattsson
Save Coventry hospitals:
THE PRIVATE Finance Initiative (PFI) hospital at Walsgrave in Coventry has threatened to cut over 300 jobs, and has announced a massive rise in car parking charges for the disabled...
By Rob Windsor, Coventry Socialist Party councillor




LATEST POSTS

WHAT'S ON

26 Jan Gloucestershire and Swindon Socialist Party: Building a working-class political voice

26 Jan Hackney & Islington Socialist Party: Marxism and the State

27 Jan West London Socialist Party: Was Stalinism Inevitable?

CONTACT US
Locate your nearest Socialist Party branch Text your name and postcode to 07761 818 206
Regional Socialist Party organisers:
Eastern: 079 8202 1969
East Mids: 077 3797 8057
London: 020 8988 8786
North East: 078 4114 4890
North West 079 5437 6096
South West: 077 5979 6478
Southern: 078 3368 1910
Wales: 077 7221 5281
West Mids: 024 7655 5620
Yorkshire: 078 0983 9793

ABOUT US

ARCHIVE
---

2021

2020

2019

2018

2017

2016

2015

2014

2013

2012

2011

2010

2009

2008

2007

2006

2005

2004

2003

2002

2001

2000

1999