---
Filter by importance | All results
---
8 May 2017

One Housing tenants force housing association back
Tenants refuse to pay outrageous 40% rent increase
5 April 2017

Help fund your paper!
May Day greetings final push: We're really pleased we achieved our regional target this year for May Day greetings from trade union bodies, student groups and local campaigns. If you haven't yet, you still can!
14 September 2011

Childcare costs push parents into hardship
Tory/Lib Dem claims to support families in Britain are looking increasingly threadbare as a recent study by Save the Children and the Daycare Trust shows...
1 November 2007

NHS: Kick big business out!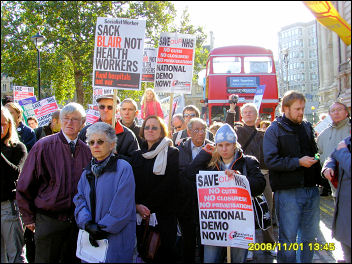 The PUSH NHS demonstration in 2006 called for a national demonstration, photo Sarah Sachs-Eldridge
A dizzying array of cuts and privatisation, in the name of modernisation and reform, has been thrust upon the NHS since New Labour came to power in 1997...
By Dr Jackie Grunsell, Save Huddersfield NHS councillor
1 November 2007

Editorial: NHS campaigning - national strategy needed
There have been protests all over the country to defend the NHS. The latest, in Haywards Heath and Chichester, were both over 10,000 strong. This shows...
12 July 2007

Action needed to save the NHS
HOSPITAL CAMPAIGNERS People United Saving Hospitals (PUSH) organised protests on 5 July, the 59th anniversary of the national health service...
14 June 2007

Fresh wave of protest in NHS
NHS demonstration March 3rd 2007, photo Paul Mattsson
"POLITICAL MEDDLING has brought the NHS to its knees... give us back the health service and we will rebuild it," said Jonathan Fielden of the British...
29 March 2007

PUSH for mass demo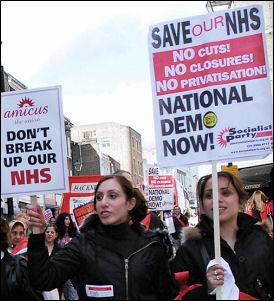 NHS demonstration March 3rd 2007, photo Paul Mattsson
Save our National Health Service:
Patients, hospital staff, doctors and medical students are all suffering due to New Labour's destruction of the NHS...
8 March 2007

NHS: First priority - a national demonstration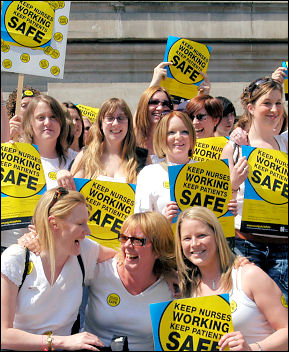 | | |
| --- | --- |
| Unison and RCN lobby of parliament in 2006, photo Paul Mattsson | |
3 March protests:
THE 3 March protests to save the NHS, involving thousands of people, show the anger over savage health cuts and the potential for a nationwide campaign of mass protests and industrial action....
7 February 2007

Anger at union leaders' timidity
AROUND THE country, health campaigners in 'save our NHS' groups such as PUSH and KONP are furious that there will not be a national demonstration on 3 March organised by the health trade unions...
1 February 2007

NHS: Protests must reflect people's anger
AT LONG last, the London NHS Together campaign has announced its event for the national day of action to defend the NHS on 3 March...
11 January 2007

Union action can defend the NHS
THE GOVERNMENT'S plans for the NHS (see front page) are a declaration of war on health service workers and surely need a militant response from the health trade union leaders...
4 January 2007

Build for a March demo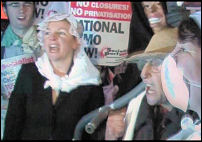 NHS: THE BATTLE to save the National Health Service must be stepped up in 2007 to stop cuts, closures and privatisation...
7 December 2006

NHS campaigns unite
THE BATTLE to defend the NHS took another step forward when 23 NHS campaign groups from around the country met in Nuneaton on 2 December...
14 September 2001

Action not words to defeat privatisation
EVEN BEFORE a recession, opposition to Blair's privatisation plans are growing. Polls show that a majority of people think that schools and hospitals should be provided entirely or mostly by the public...




LATEST POSTS

WHAT'S ON

CONTACT US
Locate your nearest Socialist Party branch Text your name and postcode to 07761 818 206
Regional Socialist Party organisers:
Eastern: 0798 202 1969
East Mids: 0773 797 8057
London: 020 8988 8786
North East: 0784 114 4890
North West 07769 611 320
South East: 020 8988 8777
South West: 07759 796 478
Southern: 07833 681910
Wales: 07935 391 947
West Mids: 02476 555 620
Yorkshire: 0114 264 6551

ABOUT US

ARCHIVE
---

2017

2016

2015

2014

2013

2012

2011

2010

2009

2008

2007

2006

2005

2004

2003

2002

2001

2000

1999