Reports and Campaigns

About the Socialist Party

Anti-capitalism

Anti-privatisation

Anti-war

Election campaigns

Environment

Health

Socialist women

Workplace

Youth and Students
---
Socialism keywords:
---
Reports and campaigns:
Stop the slaughter of Tamils (94)
Workplace and TU campaigns (8351)
Related websites
Trade Unionist and Socialist Coalition
National Shop Stewards Network
---
---
20 September 2010

Lessons from the Soviet Union
The Soviet Union was the world's first workers' state and at its beginning was a beacon for all the poor and downtrodden throughout the planet...
21 May 2008

China: Earthquake disaster exposes regime's failings
AN ESTIMATED 50,000 people or more were killed when a powerful earthquake struck central China last week. Some five million survivors are homeless. Chen Lizhi and Vincent Kolo expose the shortcomings of the regime in the light of this disaster.
27 February 2008

Feature: Fidel Castro's resignation opens up new chapter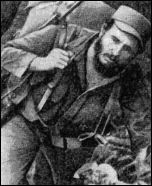 Fidel Castro in his days as a guerrila
The formal resignation of Fidel Castro as president of Cuba opens up a new chapter in Cuba's history. PETER TAAFFE comments on this latest development and argues the need for workers' democracy in Cuba.
29 January 2008

New Labour attacking our vital benefits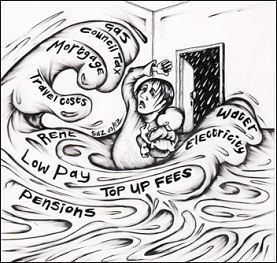 Flooded with Debt, cartoon by Suz, www.squashdonkey.co.uk
Gordon Brown's government is weaker than ever before. The smog of sleaze that pervaded Blair's government has now settled over Brown's with the resignation...
28 June 2007

World economy grows but workers lose out
IN 2006 the world economy grew by 5.4%. That annual rate is comparable with growth in the years of the post-war economic upswing of the 1960s. The ability...
28 June 2007

Rehabilitating Stalin?
Review by Peter Taaffe of Young Stalin by Simon Sebag Montefiore: "Lenin shot by Trotsky in drunken brawl". This was a headline, not from the gutter press but from a so-called 'quality' US capitalist newspaper in...
22 March 2007

Budget: Who are the real scroungers?
You can tell when Budget Day is coming because the bosses step up their wailing for tax cuts...
16 October 2004

How a socialist economy would work
COMMENTING ON last November's ESF in Paris, the Guardian columnist George Monbiot acknowledged that the official anti-capitalist movement has "scarcely attempted to tackle the big issue: what should be done about capitalism...
22 November 2003

What is socialism?
THE FOLLOWING article is extracted from the chapter 'How would socialism work?' in 'Socialism in the 21st Century' by HANNAH SELL.
24 March 2000

How a socialist planned economy could work
"FROM EACH according to ability, to each according to need" - this is how Karl Marx characterised the way a socialist economy will work. But far from being preposterous or utopian, as the supporters of capitalism argue, such a vision of socialism is a practical and realisable alternative to the horrors of the market system. PETE DICKENSON explains.





LATEST POSTS

WHAT'S ON

CONTACT US
Locate your nearest Socialist Party branch Text your name and postcode to 07761 818 206
Regional Socialist Party organisers:
Eastern: 0798 202 1969
East Mids: 0773 797 8057
London: 020 8988 8786
North East: 0191 421 6230
North West 07769 611 320
South East: 020 8988 8777
South West: 07759 796 478
Southern: 07833 681910
Wales: 07935 391 947
West Mids: 02476 555 620
Yorkshire: 0114 264 6551

ABOUT US

ARCHIVE
---

2017

2016

2015

2014

2013

2012

2011

2010

2009

2008

2007

2006

2005

2004

2003

2002

2001

2000

1999