Fine Gael
---
Filter by importance | All results
---
12 February 2020

Sinn Fein harnesses working-class anger to top poll
The general election in Ireland saw a seismic change in the electoral landscape, with a big surge in support for Sinn Féin.
12 April 2017

Ireland: Bury the water charges
Simon Coveny, the Fine Gael Minister responsible for Water Charges in Ireland, endured a torrid time in the Dáil (Irish Parliament) on 6 April as Socialist Party member and Dublin South West TD (MP) Paul Murphy exposed his party's attempts to smuggle the iniquitous water charges in through the back door.
8 March 2017

Support Jobstown defendants
The campaign has gained the backing of Len McCluskey
21 February 2017

Dublin: #JobstownNotGuilty
Defend the right to protest: "We are more akin to a banana republic, and the rotten nature of the Irish state has been exposed." These were the words of TD (MP) and Socialist Party member Ruth Coppinger in the Irish Parliament on 15 February as she rose to question Taoiseach (prime minister) Enda Kenny.
23 November 2016

Ireland: repeal the 8th Amendment - fight for abortion rights
The Irish government has refused to give a second reading to a bill for a repeal referendum on restrictions to women's abortion rights. There has been a clear development of a pro-choice sentiment within society. This shows the need to develop the struggle outside parliament.
4 May 2016

Ireland: Campaigners celebrate suspension of water charges
Enda Kenny, Fine Gael's acting Taoiseach (prime minister), has been forced into a humiliating climbdown over the imposition of unfair water charges. The suspension of the hated levy is a victory for anti-water charge campaigners, particularly the Socialist Party (CWI Ireland) and its strategy of building a mass non-payment campaign.
2 March 2016

Irish voters reject 'two-and-a-half party system'
"Real change, not spare change" Three members of the Socialist Party have been elected to the Irish Parliament as part of the Anti-Austerity Alliance. Ruth Coppinger, who was re-elected in Dublin West, spoke to the Socialist on 29 February.
17 February 2016

Irish general election: fighting on an anti-austerity agenda
The Socialist Party in Ireland is participating as part of the Anti Austerity Alliance in the general election to be held on 26 February
6 April 2011

Ireland's economy on the brink
Within the first month of taking office, after 14 years in opposition, the shine has already come off Ireland's Fine Gael/Labour coalition government, writes Michael O'Brien, Socialist Party (CWI Ireland).
3 March 2011

Fantastic results in Irish election: Socialists and lefts gain five seats
Socialist Party councillor Clare Daly was elected as a TD for the first time in Dublin North with 7,513 first preference votes or 15.2% of the vote, and Joe Higgins, a TD from 1997 to 2007 and currently the Irish Socialist Party's MEP, was returned to the Dáil (parliament) representing Dublin West, gaining 8,084 votes (19%).

3 March 2011

Elections see collapse of Fianna Fail, the traditional establishment party
Ireland: Socialist Party wins two parliament seats The general election in Ireland was historic but not for the reasons being stressed by the would-be new government partners of Fine Gael and Labour.
26 January 2011

Irish government collapses: United Left Alliance offers real alternative
After the economic collapse of the so-called 'Celtic Tiger' economy, Ireland is spiralling into social and political disintegration. The Socialist Party (CWI Ireland) will stand candidates in the coming elections as a key part of the United Left Alliance (ULA).
17 May 2007

Irish election: An above average Joe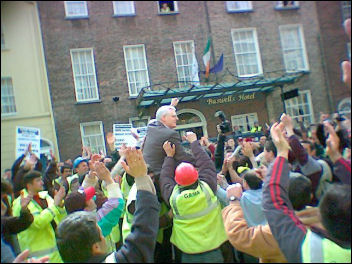 Joe Higgins and the victorious Gama workers
SOUTHERN IRELAND'S general election for the Dail, Ireland's Parliament, on 24 May gives working-class people a chance to say what they think of the 'Celtic Tiger' economic boom that has made huge profits for big business ...
3 May 2007

Irish election - Socialist Party takes on the establishment
HUNDREDS OF people languishing on trolleys in A&E departments, tens of thousands on hospital waiting lists, Û415,000 for an average house in Dublin, commuters wasting hundreds of hours a year stuck in traffic jams, the second...




LATEST POSTS

WHAT'S ON

25 Oct Leeds Socialist Party: Socialism and the fight for black liberation

27 Oct Hackney & Islington Socialist Party: What is fascism?

28 Oct West London Socialist Party: The legacy of the collapse of Stalinism

CONTACT US
Locate your nearest Socialist Party branch Text your name and postcode to 07761 818 206
Regional Socialist Party organisers:
Eastern: 079 8202 1969
East Mids: 077 3797 8057
London: 075 4018 9052
North East: 078 4114 4890
North West 079 5437 6096
South West: 077 5979 6478
Southern: 078 3368 1910
Wales: 077 7221 5281
West Mids: 024 7655 5620
Yorkshire: 078 0983 9793

ABOUT US

ARCHIVE
---

2020

2019

2018

2017

2016

2015

2014

2013

2012

2011

2010

2009

2008

2007

2006

2005

2004

2003

2002

2001

2000

1999