Liberals
---
Filter by importance | All results
---
31 July 2019

Lib Dems: little bosses' party elects eager pro-austerity leader
Jo Swinson has eagerly put her hand up for austerity, privatisation, fracking, war and the bosses' European Union
22 March 2017

Netherlands: Heavy defeat for austerity government
Build a mass workers' party that fights for socialism: The most important feature of the elections is the colossal defeat for the outgoing austerity coalition government of the Liberal Party and the Labour Party
7 December 2016

Conservatives humiliated in Richmond
Zac Goldsmith's humiliating defeat in the Richmond Park byelection was equally a defeat for Theresa May and the Tories. Her already weak government has seen its majority cut to 13.
15 March 2012

Liberals' 'democratic' conference
While the Socialist Party held its national congress in Clacton-on-Sea and committed itself to the fight to save the NHS, the Lib Dems had their conference in Gateshead
1 June 2011

Lib Dems - a party rooted in capitalism
Veneer of social reformism stripped away by Coalition attacks on the working class: Despite Liberal Democratic leader Nick Clegg's hopes, anger at his party and at Lib Dem cabinet ministers has grown massively since the 2010 general election, writes Jim Thomson.
29 July 2010

Waltham Forest Labour councillors face opposition
On a lovely summer's evening a very dirty deed was done and probably only the first of many. At a full council meeting in Waltham Forest town hall, all 31 Labour councillors present slavishly raised their hands to vote through the first round of cuts brought on by the Tory/Liberal coalition government, writes Linda Taaffe, Walthamstow Socialist Party.

25 May 2010

The ConDem coalition: not-so-new politics
After intense negotiations and backroom deals, the Tories and Liberal Democrats cobbled together a coalition government.
This was the option favoured by the ruling, capitalist class, once it was clear that David Cameron's Tories had failed to win a majority. PETER TAAFFE, Socialist Party general secretary, assesses the situation for Socialism Today (June 2010).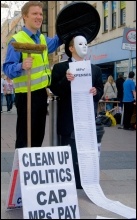 Sleaze: Cardiff Socialist Party clean up politics by binning an MP and call for a cap on MPs, photo Socialist Party Wales
28 April 2010

Cleaning up in Cardiff
The Trade Unionist and Socialist (TUSC) campaign has won the argument in Cardiff Central even if we have not won the election, writes Dave Reid.
28 September 2006

Lewisham - Liberals save Labour's blushes on NHS
AT THE Lewisham council meeting on 20 September, Labour's mayor Steve Bullock was desperate for good news on the NHS. He put forward a resolution praising Lewisham Hospital for its award of an "excellent" grade for...
24 August 2006

Liberal U-turn stops tenants' ballot victory
"YOU CAN'T trust the Liberals", an angry council tenant said on leaving the 26 July meeting of Lewisham council. Socialist Party councillors Ian Page and Chris Flood had moved a resolution calling for tenants to be balloted, writes Clive Heemskerk.
4 May 2006

Liberals withdraw Cardiff schools closure plans...
OVER 1,000 parents and school students turned up to lobby Cardiff Liberal council last week as the council intended to close 22 schools and threaten 300 teaching jobs across the city. The school students travelled to the demo in specially hired open buses, accompanied by brass bands and the like.
29 September 2005

Where are the Lib Dems going?
THE LIBERAL Democrat identity crisis was exposed at their conference. Leader Charles Kennedy tried to deflect criticism that the party was...
14 April 2005

Anti-social behaviour orders (ASBOs) A socialist approach
ALL THE main parties in this election are focusing on crime, and in particular anti-social behaviour by young people...
2 October 2004

The Other parties of Big Business...
RECENT OPINION polls suggest that Britain's three mainstream parties - Labour, Liberals and Tories - are not only indistinguishable in politics but also indistinguishable in support...
4 October 2003

Amsterdam Demo Opposes Cuts
ON 20 September, 25,000 people took to the streets of Amsterdam to angrily protest against huge cuts of 17 billion euros in welfare provision, writes Ron Blom, Offensief, Amsterdam.




LATEST POSTS

WHAT'S ON

21 Sep Caerphilly & RCT Socialist Party: Arguments against socialism - Ask, answer, debate

22 Sep Hackney & Islington Socialist Party: Council budgets & People's Budgets

22 Sep Southampton Socialist Party: United struggle against racism and oppression

CONTACT US
Locate your nearest Socialist Party branch Text your name and postcode to 07761 818 206
Regional Socialist Party organisers:
Eastern: 079 8202 1969
East Mids: 077 3797 8057
London: 075 4018 9052
North East: 078 4114 4890
North West 079 5437 6096
South West: 077 5979 6478
Southern: 078 3368 1910
Wales: 077 7221 5281
West Mids: 024 7655 5620
Yorkshire: 078 0983 9793

ABOUT US

ARCHIVE
---

2020

2019

2018

2017

2016

2015

2014

2013

2012

2011

2010

2009

2008

2007

2006

2005

2004

2003

2002

2001

2000

1999