Defend public services
---
Filter by importance | All results
---
8 March 2017

Fight the cuts: Demand no-cuts council budgets
In tandem with the attacks on the NHS is the ongoing savagery of council cuts. Only some six Labour councillors nationally in Labour-run councils have carried out their historic duty to vote against cuts - and have been suspended by the Blairites for their stand.
10 August 2016

2011 riots: An outpouring of anger at the system
Five years on from the wave of riots that swept across cities in England, many of the underlying social problems are still there or have got worse. There is a real possibility of new upheavals breaking out today.
19 January 2011

Wales referendum: Vote Yes on 3 March - Defend public services in Wales
Socialist Party Wales is calling for a 'yes' vote in the referendum on more powers for the Welsh Assembly on 3 March, writes Dave Reid.
26 May 2010

Unions must defend public services
THE NATIONAL Union of Teachers (NUT) National Executive met just days after Cameron was finally confirmed as prime minister, writes Martin Powell-Davies, NUT executive member.
24 February 2010

How to stop cuts and defend public services
Nationally civil servants are facing an attack by the government on their 'compensation scheme' - their redundancy rights...
27 February 2008

Neither Labour nor Tories will defend public services
Tales from the council chamber: The most significant outcome of the recent Coventry council debate on next year's budget was how little would change whichever of the two main parties ran the council., writes Dave Nellist, Socialist Party Councillor, Coventry
11 October 2007

Unity with the postal workers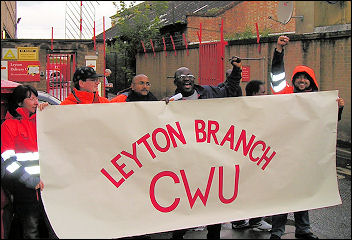 Postal workers on strike in 2007, photo Socialist Party
"They need to be exposed. This government doesn't care about the workers, they are only interested in money and power." These were the words of a striking...
By Marc Glasscoe, Branch secretary, Lincoln City Unison (Personal capacity)
13 September 2007

Fighting Unions Need a New party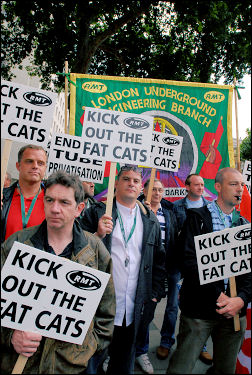 RMT protest against Tube privatisation, photo Paul Mattsson
Smash the pay freeze:
Insisting that public sector workers must accept below inflation pay rises - in reality, pay cuts - Gordon Brown showed how little difference there is between the Blair and Brown governments...
By Councillor Dave Nellist Chair, Campaign for a New Workers' Party.
25 January 2007

Striking to defend public services
Job cuts, low pay, privatisation: PUBLIC AND Commercial Services union (PCS) members have voted for national industrial action across the civil service. 61,488 (61.3%) voted for strike action.
12 May 2005

Defend public services
New Labour wastes billions on consultants: A SHOCKING report has just been published which reveals that the government spent nearly £2 billion on management consultants last year...
4 December 2004

Brighton teaching assistants fight council attacks
Defend public services: BY STRIKING on 25-26 November, teaching assistants (TAs) across Brighton and Hove showed their willingness to fight the council to receive a fair and decent salary...
24 July 2004

United Action To End Low Pay, Stop Job Cuts and Defend Public Services
THOUSANDS OF workers at the Department for Work and Pensions (DWP) are striking against low pay on 29 and 30 July. The starting salary at the DWP is a scandalously low £10,300. Many DWP staff have to claim the very benefits they are...
27 March 2004

Stop The Jobs Slaughter
Defend Public Services. GORDON BROWN dropped a budget bombshell. Over 40,000 civil service jobs are to be axed. Thousands more could go through 'efficiency' savings.

19 July 2002

Unite To Defend Public Services
GORDON BROWN'S announcement of extra cash for education will be welcomed by parents and teachers - but many will be wondering why it's taken so long to deliver extra funding when education was meant to be New Labour's top priority! writes Martin Powell-Davies, Lewisham NUT.
13 July 2001

Support the Merseyside firefighters: Defend Public Services
MERSEYSIDE FIREFIGHTERS have voted by a 82.7% majority for strike action. Chief fire officer, Malcolm Saunders and the Merseyside Fire Authority want to recruit non-uniformed staff directly into uniformed...




LATEST POSTS

WHAT'S ON

29 Nov Leeds Socialist Party: Fighting gender biased violence

30 Nov Caerphilly & RCT Socialist Party: A civil war without guns - Miners' strike 1984-5

30 Nov Cardiff West Socialist Party: Lessons of October - The Russian Revolution 1917

CONTACT US
Locate your nearest Socialist Party branch Text your name and postcode to 07761 818 206
Regional Socialist Party organisers:
Eastern: 079 8202 1969
East Mids: 077 3797 8057
London: 075 4018 9052
North East: 078 4114 4890
North West 079 5437 6096
South West: 077 5979 6478
Southern: 078 3368 1910
Wales: 077 7221 5281
West Mids: 024 7655 5620
Yorkshire: 078 0983 9793

ABOUT US

ARCHIVE
---

2020

2019

2018

2017

2016

2015

2014

2013

2012

2011

2010

2009

2008

2007

2006

2005

2004

2003

2002

2001

2000

1999