RCN
---
Filter by importance | All results
---
16 November 2011

Workplace news in brief
Support Paul Kelly!: Transport union RMT rep Paul Kelly has recently been involved in protesting against the imposition of new rosters at Wightlink Ferries in Portsmouth
1 June 2011

"Frontline first" a dangerous tactic - unity is the key
The Conservatives have pledged to protect "frontline" NHS services and cut back on bureaucracy. In reality, this is another broken promise. They have no intention of saving even frontline staff.
7 June 2007

Labour cheats NHS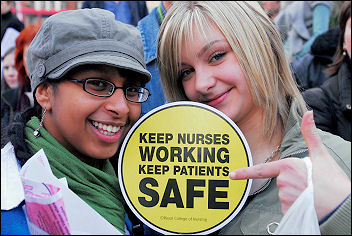 NHS demonstration March 3rd 2007, photo Paul Mattsson
Stop cuts and closures:
NHS WORKERS were outraged when they heard that there had been a £500 million under-spend in the NHS in England...
24 May 2007

Nursing staff strike shows way forward
OPERATING THEATRE nurses at Barnsley Hospital staged a 24-hour strike on 21 May over threats to their jobs and a real wage cut...
19 April 2007

Nurses' fury at cuts and attacks on jobs
NHS in crisis: NURSES AND other workers in the National Health Service are angry at cuts in the NHS...
16 November 2006

Join the fightback - save the NHS
THE NHS is facing a 'winter of discontent', media reports claim. More than 200 trusts, 40% of the total have 'overspent' half-way through the year...




LATEST POSTS

WHAT'S ON

CONTACT US
Locate your nearest Socialist Party branch Text your name and postcode to 07761 818 206
Regional Socialist Party organisers:
Eastern: 079 8202 1969
East Mids: 077 3797 8057
London: 075 4018 9052
North East: 078 4114 4890
North West 079 5437 6096
South West: 077 5979 6478
Southern: 078 3368 1910
Wales: 079 3539 1947
West Mids: 024 7655 5620
Yorkshire: 077 0671 0041

ABOUT US

ARCHIVE
---

2019

2018

2017

2016

2015

2014

2013

2012

2011

2010

2009

2008

2007

2006

2005

2004

2003

2002

2001

2000

1999