Rich
---
Filter by importance | All results
---
23 April 2008

The rich get richer... and we foot the bill!
Tax cuts for the rich: Big business has received a corporation tax cut from 30p to 28p this month, down from 33p when New Labour was elected in 1997...
27 February 2008

Rich get richer - We pay the bills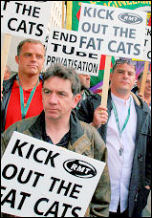 RMT protest against the fat-cats, photo Paul Mattsson
THE GROWING chasm in wealth between the super-rich and the rest of us is causing seething anger amongst workers who struggle with rising fuel bills, huge mortgages and additional charges, writes Rob Windsor, Coventry Socialist Party councillor
5 July 2007

Brown's government for the rich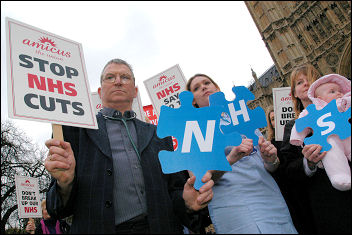 Demonstration against cuts in the NHS, 1 November 2006, photo Paul Mattsson
'TORY' BLAIR has gone at last. Good riddance! Unfortunately we are left with his legacy of cuts, privatisation, war and terrorism. Will Gordon Brown...
5 July 2007

"A new gilded age of inequality"
LAST YEAR the world's richest people increased their wealth at the fastest rate in seven years...
19 April 2007

Bank that only serves the rich
IN AN outrageous display of capitalist elitism, HSBC, "the world's local bank", is shutting one of its Dorset branches in the Canford Cliffs area to anyone who does not have more than £50,000 savings, a £200,000 mortgage o...
15 March 2007

£billions for rich... Pennies for us!
Picture: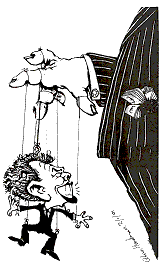 Blair's Britain: BRITAIN IS now more unequal than at any time in living memory. If you are a low-paid worker on the minimum wage you're offered a pay rise way below the real inflation rate. It's the same 'offer' for many public-sector workers. If you are an out-of-work single parent, you're harassed by the government to get any job, no matter how low-paid. If you are one of the super-rich, however, this government will fawn on you.
Tony Blair - Bosses' puppet
4 January 2007

Super-rich pocket £18 billion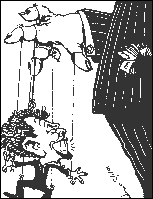 FAMILIES who lost their savings due to the collapse of the company Farepak struggled to have a good Christmas.

At the same time London's top financiers were living it up with bonuses totalling £9,000,000,000 (£9 billion). Across Britain as a whole, the bonuses received by directors were estimated to be double that figure, a staggering £18 billion.
7 December 2006

MPs wannabe rich
OUR MPS want parity with GPs so they've put in a 66% pay claim that would take their salaries to £100,000 a year...
6 July 2006

How the rich became super-rich
TWO OF the world's richest multi-billionaires, Warren Buffett and Bill Gates, recently announced in a publicity exercise that they are giving away large parts of their vast wealth to philanthropic ventures...
22 June 2006

Secuestro Express
One of the most controversial films in Venezuela in many years, Secuestro Express was made by a director who is rumoured to support reactionary opposition parties in the country...
7 April 2005

Rich are getting richer...
PRESS REPORTS say average household incomes may have dropped by 0.2% last year...
7 August 2004

WTO - The Enemy Of The Poor
LAST WEEK the World Trade Organisation (WTO), one of the pillars of the world capitalist 'order', met in Geneva. World trade is dominated by a few hundred greedy multinationals who also control the WTO...
11 October 2003

Bosses Get Rich - Workers Get 30p
THE MINIMUM wage for over 21s went up this month by 30p to a measly £4.50 an hour (only £3.80 an hour for 18-21 year olds)...




LATEST POSTS

WHAT'S ON

CONTACT US
Locate your nearest Socialist Party branch Text your name and postcode to 07761 818 206
Regional Socialist Party organisers:
Eastern: 079 8202 1969
East Mids: 077 3797 8057
London: 075 4018 9052
North East: 078 4114 4890
North West 079 5437 6096
South West: 077 5979 6478
Southern: 078 3368 1910
Wales: 079 3539 1947
West Mids: 024 7655 5620
Yorkshire: 077 0671 0041

ABOUT US

ARCHIVE
---

2019

2018

2017

2016

2015

2014

2013

2012

2011

2010

2009

2008

2007

2006

2005

2004

2003

2002

2001

2000

1999