Joe Higgins
---
Why you should come to Socialism 2010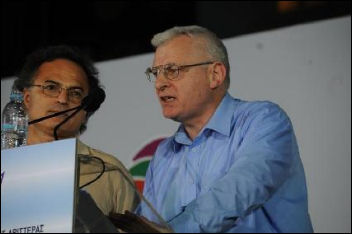 Joe Higgins, the Irish Socialist Party's MEP, speaking at central SYRIZA rally in Athens, Greece
Joe Higgins, Socialist Party MEP for Dublin, Ireland, explains why Socialism 2010 is an important event for all who oppose the brutal austerity cuts.
Joe will speak in the closing rally on Sunday 7 November.

All over Europe millions of workers are moving into opposition to the austerity plans being implemented at the behest of big business.
Recently we have seen magnificent general strikes in Spain, Greece and France as well as massive protests all across Europe.
This is in opposition to attempts to make working people pay for the economic crisis through savage attacks on living standards including attacks on pension rights, pay cuts, job losses and cuts in public services.
The government in Ireland has launched three brutal austerity budgets since the outbreak of the economic crisis.
Pain has been felt by those plunged into unemployment and low and middle income workers in both the public and private sectors.
We have seen 15% pay cuts for public servants, slashing of public spending, closure of hospital wards, overcrowding in classrooms and increased taxes on workers.
All this for the sharks in the financial markets who are demanding that the working class pay for the €50 billion black hole in the Irish banks caused by property speculators.
In Britain, the Con-Dem coalition government is gearing up for a massive onslaught against the working class this autumn.
The cuts they have planned will mean pain for working people on a par with Ireland. These cuts, rather than providing a platform to economic recovery, will further undermine the economy and threaten a downward descent into deeper debt and crisis.
The dictatorship of the unelected bondholders and the small number of super-rich speculators who constitute the financial markets must be rejected.
We need new mass workers' parties and leaders in the unions that will organise a real fightback and organise a struggle to replace this dictatorship of the markets with democratic socialism.

If you want to fight the cuts and debate with other people involved in anti-cuts movements in Britain and across Europe - come to Socialism 2010.
---




LATEST POSTS

WHAT'S ON

CONTACT US
Locate your nearest Socialist Party branch Text your name and postcode to 07761 818 206
Regional Socialist Party organisers:
Eastern: 0798 202 1969
East Mids: 0773 797 8057
London: 020 8988 8786
North East: 0784 114 4890
North West 07954 376 096
South East: 020 8988 8777
South West: 07759 796 478
Southern: 07833 681910
Wales: 07935 391 947
West Mids: 02476 555 620
Yorkshire: 0114 264 6551

ABOUT US

ARCHIVE
---

2018

2017

2016

2015

2014

2013

2012

2011

2010

2009

2008

2007

2006

2005

2004

2003

2002

2001

2000

1999