---
Filter by importance | All results
---
21 June 2007

Something for everyone at the summer camp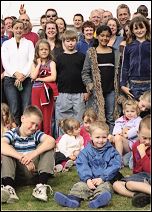 Socialist Party summer camp
Last year I went along to the Socialist Party summer camp. At the time I knew little about socialism, or even politics in general. I decided however that a summer camp would be a pretty laid-back sort of environment for finding out about socialist ideas, so I decided to go along.
6 July 2006

Come to Summer Camp!
NOW'S THE time to book up for Summer Camp. For three days at the end of August, you can relax in pleasant surroundings in the Essex countryside. You can participate in a wide range of political discussions - organised for every morning and evening. And there's plenty of time free to try out new sports and activities - like canoeing, mountain biking and climbing. Instructors supervise all activities, so beginners of any age can participate.
28 July 2005

Book now for Summer Camp
The 2005 Socialist Party summer camp is only weeks away - it takes place each year on the summer bank holiday, 26 - 29 August 2005...
12 July 2003

Come to Summer Camp
SUMMER CAMP has long been a national event of the Socialist Party and its forerunners. The camp is now regularly held over the August bank holiday weekend and the numbers have increased steadily over the...




LATEST POSTS

WHAT'S ON

CONTACT US
Locate your nearest Socialist Party branch Text your name and postcode to 07761 818 206
Regional Socialist Party organisers:
Eastern: 079 8202 1969
East Mids: 077 3797 8057
London: 020 8988 8786
North East: 078 4114 4890
North West 079 5437 6096
South West: 077 5979 6478
Southern: 078 3368 1910
Wales: 079 3539 1947
West Mids: 024 7655 5620
Yorkshire: 077 0671 0041

ABOUT US

ARCHIVE
---

2019

2018

2017

2016

2015

2014

2013

2012

2011

2010

2009

2008

2007

2006

2005

2004

2003

2002

2001

2000

1999