Detention without charge
---
Filter by importance | All results
---
17 May 2017

Palestinian prisoners on mass hunger strike protest
Israel/Palestine: The Strike of Freedom and Honour is the name given to an indefinite mass hunger strike of hundreds of Palestinian prisoners in Israeli jails, which started on Palestinian Prisoner Day, 17 April.
17 June 2008

David Davis - sanity or carving a position?
TORY SHADOW Home Secretary David Davis has stood down to fight a by-election in opposition to the government's narrow victory on the issue of 42 days detention without charge for 'terrorist' suspects, writes Ken Douglas.
11 June 2008

Stirring rally backs Tommy Sheridan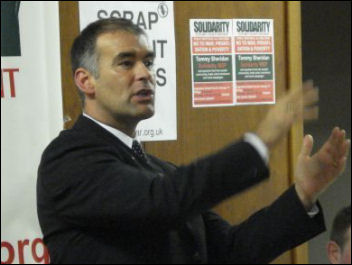 Tommy Sheridan in 2007
AT AN inspiring rally in Glasgow on 7 June, 250 people pledged their support for Tommy Sheridan, Gail Sheridan, Gus Healey, Graeme McIver, Rosemary Byrne, Jock Penman and Pat Smith, writes Jim McFarlane, CWI Scotland.
6 December 2007

The socialist review: 'Taking Liberties'
PAPER MASKS, scissors and some toy soldiers. These are the offensive items found by 100 police officers, after holding three busloads of anti-war protesters... By Michael Wrack, Hackney Socialist Party
22 November 2007

Detention without trial: Defend civil rights
THE BIZARRE and scandalous auction over how long police should be allowed to detain terrorism suspects without charge continues... By Naomi Byron




LATEST POSTS

WHAT'S ON

26 Jul Leeds Socialist Party: Brexit so far and in the next period

27 Jul Brighton Socialist Party: Material deprivation and the impact on schools

27 Jul Caerphilly and RCT Socialist Party: What is Marxism?

CONTACT US
Locate your nearest Socialist Party branch Text your name and postcode to 07761 818 206
Regional Socialist Party organisers:
Eastern: 079 8202 1969
East Mids: 077 3797 8057
London: 075 4018 9052
North East: 078 4114 4890
North West 079 5437 6096
South West: 077 5979 6478
Southern: 078 3368 1910
Wales: 077 7221 5281
West Mids: 024 7655 5620
Yorkshire: 078 0983 9793

ABOUT US

ARCHIVE
---

2020

2019

2018

2017

2016

2015

2014

2013

2012

2011

2010

2009

2008

2007

2006

2005

2004

2003

2002

2001

2000

1999