Andy Coulson
---
Tommy Sheridan jailing: Political vendetta ends in draconian sentence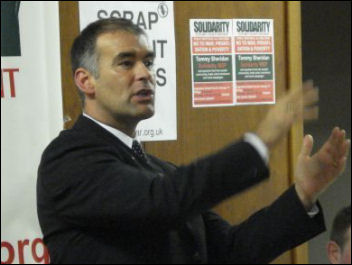 SCOTTISH SOCIALIST Tommy Sheridan was jailed for three years on 26 January having being found guilty on charges of perjury. This follows the longest and most expensive perjury trial in Scottish legal history. The unprecedented political vendetta and this draconian sentence will provoke anger and disappointment among many thousands of working-class people across Scotland.
The class nature of the prosecution and jail sentence was illustrated by the £4 million spent by the police and the Scottish Crown to secure this verdict.
This prosecution has only been achieved through an unholy alliance of the might of media mogul Rupert Murdoch's News International, the capitalist legal establishment, the police and the leadership of the Scottish Socialist Party (SSP).
Many will contrast the treatment of Tommy Sheridan with the way that the prosecutors and the police have allowed Andy Coulson and the News of the World to, so far, avoid charges over widespread illegal phone hacking.
Without the actions of the SSP leadership, a successful prosecution of Tommy Sheridan would not have been possible. It is to their eternal disgrace that they were prepared to collaborate with and encourage the vendetta against Tommy Sheridan.
After the sentence was passed it was announced that Tommy Sheridan will be appealing the conviction and also taking legal action against the News of the World, the Metropolitan police and Glenn Mulcaire over the hacking of his phone.
Gail Sheridan, Tommy's partner, said: "Tommy has dedicated his life to helping others. The real reason why he's been imprisoned today is because he has fought injustice and inequality with every beat of his heart."
---
>
The Socialist Party Scotland statement can be read on:
---
>
Readers wishing to send letters/correspondence to Tommy Sheridan:
Tommy Sheridan, Prison Number 32057, HMP Barlinnie, 81 Lee Avenue, Riddrie, GLASGOW G33 2QX
---




LATEST POSTS

WHAT'S ON

CONTACT US
Locate your nearest Socialist Party branch Text your name and postcode to 07761 818 206
Regional Socialist Party organisers:
Eastern: 0798 202 1969
East Mids: 0773 797 8057
London: 020 8988 8786
North East: 0784 114 4890
North West 07769 611 320
South East: 020 8988 8777
South West: 07759 796 478
Southern: 07833 681910
Wales: 07935 391 947
West Mids: 02476 555 620
Yorkshire: 0114 264 6551

ABOUT US

ARCHIVE
---

2017

2016

2015

2014

2013

2012

2011

2010

2009

2008

2007

2006

2005

2004

2003

2002

2001

2000

1999