Car industry
---
New Labour's environmental ploy: How green are electric cars?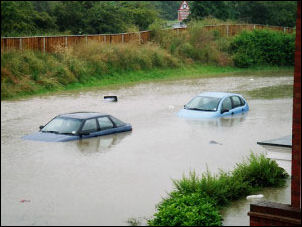 Electric cars, but ... (photo Chris Moore)
DESPERATE TO arrest his precipitous decline in the opinion polls, Gordon Brown has announced an incentive scheme to give people up to £5,000 towards the cost of trading in their old car for an electric one. He has declared that he wants Britain to become a "world leader" in the development and production of electric cars.
Ken Douglas
This policy is aimed to press all the right buttons - revitalising the ailing car industry with a stimulus package to get consumers spending again while saving the planet by reducing carbon emissions, road transport accounting for 18% of the total.
However, as with everything New Labour, appearances can be deceptive. What does this initiative really amount to and what will be its effect?
The total subsidy that has been announced is actually very small. According to the RAC, £5,000 per person translates into an extra 50,000 electric cars on the road, compared to the current annual total car sales of 2.7 million cars.
At the moment there are only a few small manufacturers of electric cars - sales actually fell by half last year. The government has repeatedly rejected giving assistance to struggling van manufacturer LDV, which has asked for assistance on the basis that it would convert its production to electric vehicles.
The necessary infrastructure of charging stations or battery banks is not in place. £20 million has been pledged for development but this is a drop in the ocean.
How green is this proposal? Electric cars may lead to cleaner air because the vehicles themselves produce no emissions but this depends on how the electricity that powers them is produced.
If the power comes from a conventional power station then they will actually be less carbon efficient than a modern diesel or petrol car. The main alternative, supposedly greener, electricity generator being put forward by the government is nuclear power. However, inherent in nuclear power is the potential for catastrophe. Moreover, there is the problem of the safe disposal of nuclear waste.
Plan of production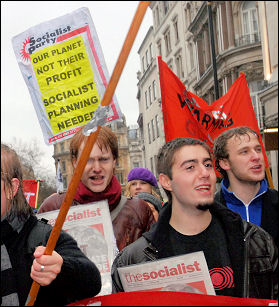 Socialist Party on the climate change demo December 2007, photo Paul Mattsson
Capitalist politicians like Brown are fiddling while Rome burns. Governments are consumed by the economic crisis at a time when climate scientists are concerned that the accelerated melting of the polar ice caps requires urgent action. Yet big business politicians have only taken decisive action to protect the capitalist system itself and the economic interests of finance and big business.
To radically reduce greenhouse gas emissions requires decisive, worldwide, united action to put massive investment into research and development of alternative technology and switching production to renewable, carbon neutral technologies. This could be done on the basis of current technology such as hydrogen cells, wind power and solar power. For example, the world's energy needs could be generated by a single huge solar array in just one part of the Sahara Desert.
Production could be rapidly shifted away from the mass production of cars towards public transportation and the production of wind turbines etc. (At the beginning of World War Two car factories were rapidly converted to arms production.)
However, the rivalries between the capitalist powers, which are already leading towards increased protectionist measures, make this impossible on the scale that is necessary.
Only workers' governments, by sweeping away the class system, would be able to eliminate the capitalist competition. They would facilitate the necessary measures of pooling the world's resources and technologies to begin to eliminate world poverty and the problem of global warming.
---




LATEST POSTS

WHAT'S ON

26 Jul Leeds Socialist Party: Brexit so far and in the next period

27 Jul Brighton Socialist Party: Material deprivation and the impact on schools

27 Jul Caerphilly and RCT Socialist Party: What is Marxism?

CONTACT US
Locate your nearest Socialist Party branch Text your name and postcode to 07761 818 206
Regional Socialist Party organisers:
Eastern: 079 8202 1969
East Mids: 077 3797 8057
London: 075 4018 9052
North East: 078 4114 4890
North West 079 5437 6096
South West: 077 5979 6478
Southern: 078 3368 1910
Wales: 077 7221 5281
West Mids: 024 7655 5620
Yorkshire: 078 0983 9793

ABOUT US

ARCHIVE
---

2020

2019

2018

2017

2016

2015

2014

2013

2012

2011

2010

2009

2008

2007

2006

2005

2004

2003

2002

2001

2000

1999