---
Filter by importance | All results
---
12 September 2018

Guards move closer to beating driver-only operation
Attempts to move to driver-only operation have been pushed back
2 May 2018

Obituary: Roy Corke 1945-2018
Wirral Socialist Party members were shocked to hear of the unexpected death of Roy Corke
7 March 2018

Whole lotta shakin' goin' on in DOO dispute
Saturday 3 March saw another solid strike across the Arriva Northern and Merseyrail railway franchises by guards
26 January 2018

Cammell Lairds strikers demand improved pay and conditions
Shipbuilding workers in the GMB and Unite are striking
10 November 2017

Huge support for strikes of bus drivers and train guards
Public transport across Merseyside was nearly shut down
4 July 2017

Support the Merseyrail strikes against DOO
The Labour-run 'Liverpool city region transport committee' still intends to take guards off the trains and introduce 'driver-only operation'. We support the RMT, taking 24-hour strike action against this on 8, 10 and 23 of July.
25 April 2017

Peter Taaffe speaks in Birkenhead
Birkenhead born Peter Taaffe, general secretary of the Socialist Party, returned to his hometown on Monday 24th April to speak about the situation in Britain today and also his new book - 'From Militant to the Socialist Party'.
9 November 2016

Obituary: Hilary Mooney 1945-2016
Hilary Mooney, for over 50 years first a supporter of Militant and then a member of the Socialist Party on Merseyside, has sadly passed away at the age of 71 after a lengthy period of illness that she bore with great fortitude.
2 December 2015

Christmas 'collectathon': 8 to 17 December
We are appealing to all our readers and supporters to help the Socialist Party hit our target of £35,000 for the final quarter of the year, enabling us to achieve a record fighting fund total for 2015.
28 May 2014

Land Registry strike may just be the beginning
On 14 and 15 May, PCS members working in Land Registry (LR) responded overwhelmingly to a call for strike action
26 July 2012

Second strike day at Remploy factories
The second day of strike action at the Leeds Remploy factory saw large numbers of pickets once again.
Posting updated 27.7.12
16 March 2011

Campaigning against all cuts and privatisation
Tower Hamlets: In 1921 Poplar councillors, led by George Lansbury, electrified British politics by refusing to make working class East Londoners pay unaffordable rates...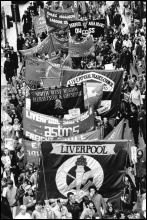 The campaign built by Liverpool city council in 1983-87 to win extra funding inspired thousands of workers, photo Militant
2 February 2011

'Struggle or starve!' 1932 - when Birkenhead workers beat the means test
To the present generation of workers and young people, the phrase 'means test' probably means little, writes Peter Taaffe, Socialist Party general secretary.




LATEST POSTS

WHAT'S ON

CONTACT US
Locate your nearest Socialist Party branch Text your name and postcode to 07761 818 206
Regional Socialist Party organisers:
Eastern: 0798 202 1969
East Mids: 0773 797 8057
London: 020 8988 8786
North East: 0784 114 4890
North West 07769 611 320
South East: 020 8988 8777
South West: 07759 796 478
Southern: 07833 681910
Wales: 07935 391 947
West Mids: 02476 555 620
Yorkshire: 0114 264 6551

ABOUT US

ARCHIVE
---

2017

2016

2015

2014

2013

2012

2011

2010

2009

2008

2007

2006

2005

2004

2003

2002

2001

2000

1999