Kirklees
---
Socialist councillor opposes Tory plans for education privatisation
Last week's Kirklees council meeting brought in a new Liberal/Labour coalition administration after a vote of 'no confidence' in the ruling minority Tory cabinet took place.
Jackie Grunsell, Save Huddersfield NHS councillor
The vote was the culmination of months of debate over plans to reconfigure schools in North Kirklees, under the Building Schools for the Future (BSF) programme. This promised large sums of money to improve schools but the Tories' plans also involved school closures and mergers and an academy school in the area.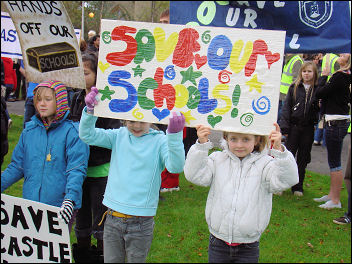 Save our school: one of the many protests against the Tory plans, photo by Yorkshire SP
Particularly controversial was the plan to build a new high school in the ward of the Tory leader of the council, where there had previously been none. This would have created a new school predominantly for white children in a relatively wealthy area, from where many children would previously have gone to a school in nearby Batley, which has a majority of asian pupils from more deprived parts of Kirklees.
The plans have set one community against another in a fight for resources, in a part of the borough already struggling to manage tensions and divisions between communities. Since September, council meetings have been packed with up to 200 members of the public coming to lobby and hear the debate. Meetings of outraged parents, staff and pupils have taken place in just about every affected part of the borough.
The Tories, in a desperate attempt to absolve themselves of responsibility, even called for a referendum on the issue, but those wanting to participate would have to register to vote! There was never genuine consultation with the public about what they wanted.
In order to get the vote of 'no confidence', Labour and Liberals needed a two-thirds majority vote.
With all the Labour, Liberal and Green councillors present they still needed one more vote to remove the Tory administration and were forced to ask for my support (I am a Socialist Party member who was elected in 2006 to the council for Save Huddersfield NHS).
As a result of discussion before the vote it appears that the new Lib/Lab proposals will no longer contain plans for an academy, although final plans are yet to be drawn up.
They have also given a commitment to discuss plans with trade unions representing staff in the affected school. On the basis of these expected changes, I voted to bring down the Tory administration.
Socialist Party members however are under no illusion that the new administration will be significantly different to the last; in a period of economic crisis they will come under pressure to make cuts in services and jobs.
But this episode shows how even just one socialist councillor can help the campaign for the retention of comprehensive and community education in Kirklees, and strike a blow against privatisation and closures.
---




LATEST POSTS

WHAT'S ON

CONTACT US
Locate your nearest Socialist Party branch Text your name and postcode to 07761 818 206
Regional Socialist Party organisers:
Eastern: 0798 202 1969
East Mids: 0773 797 8057
London: 020 8988 8786
North East: 0784 114 4890
North West 07769 611 320
South East: 020 8988 8777
South West: 07759 796 478
Southern: 07833 681910
Wales: 07935 391 947
West Mids: 02476 555 620
Yorkshire: 0114 264 6551

ABOUT US

ARCHIVE
---

2017

2016

2015

2014

2013

2012

2011

2010

2009

2008

2007

2006

2005

2004

2003

2002

2001

2000

1999