Portsmouth
---
Portsmouth North: "An ordinary guy to represent ordinary workers"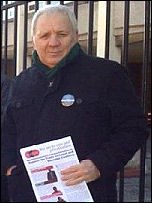 Mick Tosh, Trade Unionist and Socialist Coalition (TUSC) candidate
AS IBM announced a 'consultation' over threatened redundancies in Portsmouth, Mick Tosh, TUSC parliamentary candidate for Portsmouth North, called for solidarity with the workers facing job losses. Mick blasted New Labour MP Sarah McCarthy-Fry for failing to fight to protect jobs in the city.
Ben Norman
"Sarah McCarthy-Fry said that the decision to make 480 workers redundant is IBM's 'commercial decision to make'. That simply isn't good enough," said Mick Tosh. "As our MP why isn't she fighting to save those jobs? This happened during the Vestas campaign on the Isle of Wight nine months ago, Sarah and her New Labour colleagues consistently put company profits above the people they are supposed to represent and it has to stop.
"Every time working people in this area have faced job losses or are forced to fight for their conditions or pensions we have been there to support them, but that cannot be said for New Labour. That is the point of the Trade Unionist and Socialist Coalition, we are not only representing ordinary working people, we are ordinary working people representing ourselves.
"TUSC doesn't simply promise a fairer society, we are standing to build that society with working people by building a new political alternative that fights for us."
In Cosham, TUSC campaigners spoke to local hospital workers and many residents who simply felt betrayed by their current politicians. "We're losing our jobs today," said Linda, a shop worker on the high street. "We were promised that this area would be regenerated by a Labour government and the LibDem council, but that was clearly a lie. We'll be voting for TUSC, it's time that an ordinary guy like Mick was representing ordinary people like us."
"TUSC's Portsmouth North campaign isn't going to lose momentum after the election," said Socialist Party member Stuart Thompson. "When the government comes for our jobs and our services, we will be ready to face them.
"TUSC has brought us together and the coming fight will keep us together. We are calling for the current campaign team to become a potential branch of a new worker's party to continue, and win, this fight!"
---




LATEST POSTS

WHAT'S ON

CONTACT US
Locate your nearest Socialist Party branch Text your name and postcode to 07761 818 206
Regional Socialist Party organisers:
Eastern: 0798 202 1969
East Mids: 0773 797 8057
London: 020 8988 8786
North East: 0784 114 4890
North West 07769 611 320
South East: 020 8988 8777
South West: 07759 796 478
Southern: 07833 681910
Wales: 07935 391 947
West Mids: 02476 555 620
Yorkshire: 0114 264 6551

ABOUT US

ARCHIVE
---

2017

2016

2015

2014

2013

2012

2011

2010

2009

2008

2007

2006

2005

2004

2003

2002

2001

2000

1999