Wythenshawe
---
Wythenshawe
NHS cuts threaten lives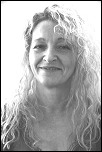 Lynn Worthington, Socialist Party candidate in Manchester Wythenshawe
MANCHESTER HEALTH campaigner Lynn Worthington has condemned as an "unnecessary and avoidable tragedy," the deaths of prematurely born babies due to a shortage of local premature baby (neonatal) units. Lynn is chairperson of the Save Our Baby Unit campaign which is fighting to save Wythenshawe Hospital's neonatal intensive care unit.
Lynn is also standing as a Socialist Alternative candidate in the local elections in Baguley ward in Manchester, "to give this campaign a voice on the council."
Responding to national news that yet more babies have died because no local neonatal facilities were available, Lynn said: "These avoidable tragedies are being caused by the government's cuts to the health service. There's not enough neonatal care as it is. We demand an end to the closure of hospital services. We want more baby units across the country, in local hospitals where the mother and baby can be kept together."
Lynn added: "Reduction from four beds to one stabilisation cot at Wythenshawe will mean more long journeys for babies, endangering more lives. At Wythenshawe, maternity services are due to be expanded - but with less neonatal care. What happens if two premature babies need the cot at the same time?"
Hugh Caffrey
---




LATEST POSTS

WHAT'S ON

CONTACT US
Locate your nearest Socialist Party branch Text your name and postcode to 07761 818 206
Regional Socialist Party organisers:
Eastern: 079 8202 1969
East Mids: 077 3797 8057
London: 075 4018 9052
North East: 078 4114 4890
North West 079 5437 6096
South West: 077 5979 6478
Southern: 078 3368 1910
Wales: 079 3539 1947
West Mids: 024 7655 5620
Yorkshire: 077 0671 0041

ABOUT US

ARCHIVE
---

2019

2018

2017

2016

2015

2014

2013

2012

2011

2010

2009

2008

2007

2006

2005

2004

2003

2002

2001

2000

1999