---
Filter by importance | All results
---
26 October 2016

A day in the life of a midwife
"Midwives really are expected to look after 15 women plus their babies": The Royal College of Midwives recently published a survey that highlighted why a growing number of midwives were choosing to leave the profession.
6 January 2016

Union action needed to defeat attack on student nurses
The government's 2015 Autumn Statement announced that it intends to end the payment of student bursaries for nursing, midwifery and allied health professional students - as proposed by the Council of Deans of Health - from 1 September 2017. This has been met with anger and alarm.
6 January 2016

Support junior doctors' and student nurses' action
NHS workers under attack: The attack launched on student nurse bursaries underlines the continued campaign the Tories are conducting against our NHS. NHS spending is at its lowest as a percentage of GDP since 1951, and the treasury is demanding a further £22 billion worth of cuts by 2020.
14 October 2015

Health service: condition critical
Our NHS is ill. Its health is worsening. Like someone with cancer, symptoms appear in different parts of its body although it just gets by day to day.
26 November 2014

Health workers walkout in second NHS pay strike
Nurses, cleaners, porters, midwives, occupational therapists, paramedics, scientists, radiographers, admin, catering, security staff and other NHS staff in England took part in a second four-hour strike on Monday 24 November
15 October 2014

First NHS pay strike for 30 years
On 13 October, NHS workers in six unions - Unison, Unite, GMB, Royal College of Midwives (RCM), Ucatt and British Association of Occupational Therapists - went on strike for four hours, the first NHS pay strike for three decades
1 October 2014

Pay cuts: Angry and ready to strike!
Public sector workers - including in the NHS, local government, colleges and the civil service - are due to take part in rolling strike action on 13-15 October
19 March 2014

Review: Call the Midwife
The third series of the BBC's Call the Midwife finished recently. The programme is based on the real life memoirs of Jennifer Worth (formerly Lee) who worked as a midwife in London's east end in the 1950s
19 June 2013

Them & Us
A façade, literally: In preparation for the G8 meeting in Northern Ireland, £2 million was spent on tackling dereliction. Not by building or renovating new houses or services...
3 April 2013

Sick Of Your Boss: young people in work - your stories
I'm a first-year student midwife at a Birmingham NHS trust. I was well aware of the realities of the job before I started the course, from the grave responsibility of ensuring mother and baby are alive and well, to dealing with abusive families and social services matters, to coming home drenched in all manner of bodily fluids.

18 May 2011

Battle for the NHS!
David Cameron has made clearer than ever what side he's on regarding the NHS. "It is because I love the NHS so much that I want to change it," he said. This speech spelt out that only very minor compromises,...
30 January 2008

NHS in crisis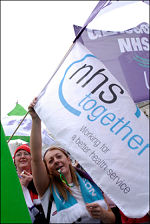 On the 3 November Save the NHS march, photo Paul Mattsson
Plans 'unfit for purpose'?:
'FIT FOR the future,' the government's plan for NHS services in North-east London, would be better entitled 'Unfit for purpose'! It will mean downsizing King George Hospital and possibly Whipps Cross Hospital, closing their Accident and Emergency (A&E) departments and moving them to a 'super-hospital' many miles away - the PFI-built Queens Hospital in Romford.
26 July 2007

NHS: no more cuts, no more privatisation
The trade unions need to unite the campaigns to defend the NHS and fight for a living wage for a health workers...
22 March 2007

Socialist Party women's day school a success
A successful Socialist Party women's day school took place last Saturday. Former health worker, Liz Cowell introduced a discussion on the maternity crisis...
1 March 2007

Fighting for women's rights
The pressures of life under capitalism, double standards which still leave women doing the vast majority of childcare and housework, and a lack of confidence are all barriers which women can face to joining the Socialist Part...




LATEST POSTS

WHAT'S ON
---

CONTACT US
Locate your nearest Socialist Party branch Text your name and postcode to 07761 818 206
Regional Socialist Party organisers:
Eastern: 0798 202 1969
East Mids: 0773 797 8057
London: 020 8988 8786
North East: 0784 114 4890
North West 07769 611 320
South East: 020 8988 8777
South West: 07759 796 478
Southern: 07833 681910
Wales: 07935 391 947
West Mids: 02476 555 620
Yorkshire: 0114 264 6551

ABOUT US

ARCHIVE
---

2017

2016

2015

2014

2013

2012

2011

2010

2009

2008

2007

2006

2005

2004

2003

2002

2001

2000

1999