Fujitsu
---
22 January 2010
Seventh day of national strike action at Fujitsu IT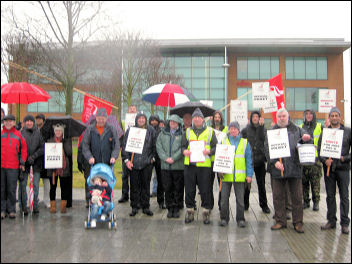 Seventh day of national strike action at Fujitsu IT, photo by Manchester Socialist Party
It's not often you see Information Technology (IT) workers marching round a traffic island brandishing a Unite flag in one hand and a "Honk Your Horn" placard in the other! The seventh day of national strike action at Fujitsu IT saw the largest and liveliest Manchester pickets so far.
Hugh Caffrey
Fujitsu made record profits last year, dishing out a small fortune to the shareholders and £1.6m to two ex-bosses! This is a profitable company using the recession as an excuse to hammer conditions, pay and employment.
Offering minimal 'concessions' early this month showed Fujitsu bosses can be moved by strike action.
Attempts to make 1,200 staff redundant have been watered down, and the effective 20% pay cut for 3,000 Defined Benefit pension scheme members reduced to 15%! Rightly, workers see these as tokens, not a willingness to negotiate or address the attacks which led to the dispute late last year and not enough to settle for.
Seventy staff remain at risk of compulsory redundancy, at a time when a new government contract has just been signed worth £hundreds of millions, and Fujitsu is using agency staff to cover shortfalls created by previous voluntary redundancies! It also appears they may be fiddling the voluntary redundancies to make more job losses.
Defined-benefit pension scheme members offered a 5% pay increase in return for accepting a 20% effective pay cut know that still leaves them 15% worse off! There is no movement from the company on last year's pay freeze, but instead indications that Fujitsu may seek to continue this through 2010 meaning two years of real-terms pay cuts for 11,000 workers.
The plan of strike action continues through to next month, with strikes on 29th January and 1st, 5th and 8th February.
This gives time to continue bringing on board wider sections of Fujitsu workers, both organised and unorganised, and put the company under huge pressure.
It is possible that Fujitsu may beat a retreat with the new contract signed. It is equally possible they may use this to ramp up casualisation of the workforce and payouts for the shareholders.
Strong strike action and protests built around strike days have made Fujitsu offer token measures. Further action can make them back down.
Unite has organised parliamentary lobbies and other actions as well as the strikes. The next step for Unite nationally, and for the United Left in Unite, is to mobilise more active support.
Getting Fujitsu strikers to speak at Unite branches and workplaces, as well as collections for the strike fund, can prepare for public protests and demonstrations.
Trade unionists in and beyond Unite should discuss with strikers about whether to lobby the organisations which have contracts with Fujitsu, including high street names and large parts of the public sector.
The faster that wider support is mobilised, then the faster a victory could be secured in Britain's first national IT strike.
See www.ourunion.org.uk for news and how you can support the dispute. Send messages of support c/o John Wood, 301 Bolton Road, BL8 2NZ and trade union branch donations to the same address, made payable to "Manchester IT Workers Group".
And send a protest to Fujitsu CEO Roger Gilbert, Fujitsu UK & Ireland, 22 Baker Street, London, W1U 3BW.
Donate to the Socialist Party
Finance appeal
The coronavirus crisis has laid bare the class character of society in numerous ways. It is making clear to many that it is the working class that keeps society running, not the CEOs of major corporations.
The results of austerity have been graphically demonstrated as public services strain to cope with the crisis.
The government has now ripped up its 'austerity' mantra and turned to policies that not long ago were denounced as socialist. But after the corona crisis, it will try to make the working class pay for it, by trying to claw back what has been given.
The Socialist Party's material is more vital than ever, so we can continue to report from workers who are fighting for better health and safety measures, against layoffs, for adequate staffing levels, etc.
When the health crisis subsides, we must be ready for the stormy events ahead and the need to arm workers' movements with a socialist programme - one which puts the health and needs of humanity before the profits of a few.
Inevitably, during the crisis we have not been able to sell the Socialist and raise funds in the ways we normally would.
We therefore urgently appeal to all our viewers to donate to our Fighting Fund.
---




LATEST POSTS

WHAT'S ON

27 Jul Brighton Socialist Party: Material deprivation and the impact on schools

27 Jul Caerphilly and RCT Socialist Party: What is Marxism?

28 Jul Hackney & Islington Socialist Party: How can a mass movement to challenge sexism and violence against women be organised?

CONTACT US
Locate your nearest Socialist Party branch Text your name and postcode to 07761 818 206
Regional Socialist Party organisers:
Eastern: 079 8202 1969
East Mids: 077 3797 8057
London: 075 4018 9052
North East: 078 4114 4890
North West 079 5437 6096
South West: 077 5979 6478
Southern: 078 3368 1910
Wales: 077 7221 5281
West Mids: 024 7655 5620
Yorkshire: 078 0983 9793

ABOUT US

ARCHIVE
---

2020

2019

2018

2017

2016

2015

2014

2013

2012

2011

2010

2009

2008

2007

2006

2005

2004

2003

2002

2001

2000

1999