NUT
---
20 January 2014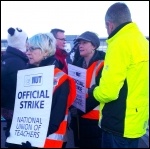 16 January 2014 NUT strike, Gateway sixth form college in Leicester , photo S Score
Gateway college: NUT strikes against management "observations"
Steve Score, Leicester Socialist Party
Over 30 National Union of Teachers (NUT) members mounted a picket line on 16 January outside Gateway sixth form college in Leicester. They were on strike for the second time that week, and plan three more days of strike action next week if their demands are not met.
The union has grown rapidly at the school, with 23 new members this term reflecting the mood but also the fact that when a union fights people can see the need to join. Every union member was on strike.
One of the pickets, a long serving teacher at Gateway, explained what the action was about:
"Our problem is with the way observations are being used in a punitive way. We accept we have to have them, but here they are being used far more frequently. If you get a '3' which has been recently changed to 'unsatisfactory', then you are immediately seen again and the competency procedures can begin. We fear it is being used as a way of getting rid of teachers.
"It is making people frightened; managers want to use it to discipline staff when the idea was originally meant to be to support careers. These are only based on Ofsted's way of doing things and they are a horribly restricted way of looking at lessons anyway.
"They are sending managers in to observe us who never leave the office, who don't understand what we are doing and can make decisions that are potentially career terminating judgements. This adds to the stress teachers face. They didn't want to give us notice of which lessons would be observed, creating the feeling that they are trying to catch you out!
"This action has an effect of uniting people and the actions of the head have actually brought the staff together - against her!"
This is the second local school dispute in Leicester in a short time, with the possibility of others on the way. In spite of the delay in national action by the teaching unions the mood to fight exists in many schools. As one teacher told me on the picket line: "This was really just the final straw, it was on top of all the other concerns we have at the moment".
---
This version of this article was first posted on the Socialist Party website on 20 January 2014 and may vary slightly from the version subsequently printed in The Socialist.
---




LATEST POSTS

WHAT'S ON

CONTACT US
Locate your nearest Socialist Party branch Text your name and postcode to 07761 818 206
Regional Socialist Party organisers:
Eastern: 0798 202 1969
East Mids: 0773 797 8057
London: 020 8988 8786
North East: 0784 114 4890
North West 07954 376 096
South East: 020 8988 8777
South West: 07759 796 478
Southern: 07833 681910
Wales: 07935 391 947
West Mids: 02476 555 620
Yorkshire: 0114 264 6551

ABOUT US

ARCHIVE
---

2018

2017

2016

2015

2014

2013

2012

2011

2010

2009

2008

2007

2006

2005

2004

2003

2002

2001

2000

1999