Campaign to Defeat Fees
---
Campaign to defeat fees!
Build a mass movement for free education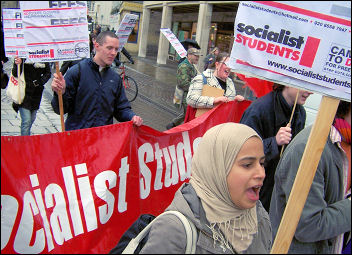 Cambridge Socialist Students protest, photo Cambridge Socialist Party
SINCE THE New Labour government brought in tuition fees eleven years ago, students have been told that "debt is good." The government claimed that the university fees and loans system increased social mobility, that all students who graduate would have their debts cancelled out by increased earnings over a lifetime.
Iain Dalton, Bangor Socialist Students, and Matt Dobson Socialist Students national organiser
New Labour has been telling lies. According to The Guardian (6 October), a third of students who started university since fees came in do not earn above £15,000 a year (the level needed for loan repayments to begin). So, nearly 400,000 graduates cannot afford to start paying off their loans.
Even before the present economic mayhem started, graduates ended their studies with debts averaging £22,000. These young people face stress: some must decide whether to attend lectures or do a shift at their part-time job. Debt-ridden bankers and fat cats are bailed out. Who will bail out these young people?
But now students may have to pay even higher university fees! In 2009, the government reviews higher education funding. Elite universities urge an increase from the present £3,000 'cap'. Manchester, Exeter and Southampton universities are so confident the government will make students pay more that they are already budgeting for a £6,000 a year fees income.
This desperate, weak government can expect opposition to increasing fees. Socialist Students believes the best way to force Brown and his cronies to back down on the cap, and to push them to scrap fees, is to build a mass campaign involving students in every university, college and school.
Socialist Students and the Campaign to Defeat Fees (CDF) have been pushing for this to happen. CDF has organised three national days of action including protests, demonstrations, stunts and rallies in over 50 universities, colleges and schools. On 16 October, protests will take place at universities and colleges in London, Birmingham, Manchester, Belfast, Cardiff and elsewhere. See www.socialiststudents.org.uk for more details.
These protests will also put pressure on the National Union of Students (NUS) leaders, who protect Brown's government by refusing to build a mass campaign during the parliamentary review on higher education funding. The NUS no longer campaigns for free education.
Bangor Socialist Students' campaigning has forced Bangor university student union to hold a referendum on 16 October, giving students the chance to vote 'Yes' to a fighting strategy to defeat fees. Disgracefully, the NUS leadership will be campaigning for a 'No' vote.
Socialist Students is confident we can convince students that we need a campaigning students union that fights not just against the lifting of the cap, but to scrap university fees altogether. We need a union that channels students' anger into a mass campaign beginning with a national demonstration this year and that fights for free, publicly funded education at all levels.
---




LATEST POSTS

WHAT'S ON

CONTACT US
Locate your nearest Socialist Party branch Text your name and postcode to 07761 818 206
Regional Socialist Party organisers:
Eastern: 079 8202 1969
East Mids: 077 3797 8057
London: 075 4018 9052
North East: 078 4114 4890
North West 079 5437 6096
South West: 077 5979 6478
Southern: 078 3368 1910
Wales: 079 3539 1947
West Mids: 024 7655 5620
Yorkshire: 077 0671 0041

ABOUT US

ARCHIVE
---

2019

2018

2017

2016

2015

2014

2013

2012

2011

2010

2009

2008

2007

2006

2005

2004

2003

2002

2001

2000

1999