Campaign to Defeat Fees
---
Students and young people
New term approaching: Build the fightback!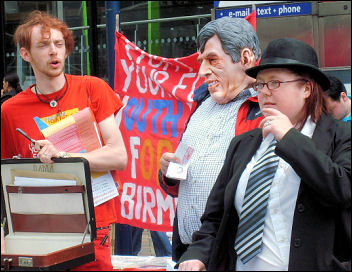 Youth Fight for jobs campaigning in Birmingham against the bankers bailouts and bonuses, photo Birmingham YFJ
Autumn is fast approaching, but this will be an autumn like no other. Young people, who have grown up in the boom and have aspirations of a decent life, are now seeing their futures snatched away as jobs and services are slashed.
Stephen Burrell, Birmingham YFJ
Meanwhile money is poured into the banks. Increasing numbers are asking: why? Can't there be a better way of running things? Their experiences this autumn are likely to push more and more to look for an alternative.
Within a matter of weeks, students will start flocking back to the schools, colleges and universities. Many will already be angry and worried about attacks on education and public services, such as the cuts at Wolverhampton University which is looking to cut one in eleven staff.
---
>
Demonstrate
Saturday 28 November
For real jobs, for free education
---
>
Students will be feeling the pain of the thousands of pounds in tuition fees that university students have to pay. Students will find it increasingly hard to get work. Job losses are particularly hitting young people and the unemployment rate of 16 to 25 year olds is expected to hit one million within weeks.
Many, disgusted by the wars and death and destruction in places like Afghanistan, Sri Lanka, Pakistan and Congo, fearful of the rapidly worsening environmental situation and appalled by the poverty and exploitation that blight the planet will be looking for an alternative to the capitalist system.
Activists from Socialist Students and the Youth Fight for Jobs (YFJ) campaign will be taking to the campuses as the new term begins, and putting forward the case for a socialist alternative.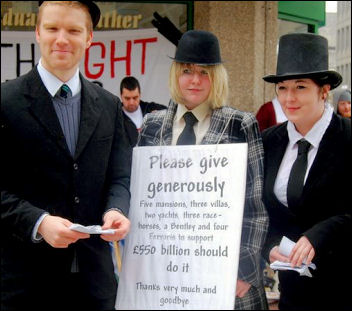 Youth Fight for jobs campaigning in Cardiff against the bankers bailouts and bonuses, photo Cardiff YFJ
Young workers who occupied the Vestas wind turbine plant are just one example of the growing mood to fight back, and we will be offering a way for young people to get involved. This can help ensure that the widespread anger people feel is channelled in a constructive way, and that the urgent need to fight for our future is taken up.
It is therefore vital that socialists reach out to as many young people as possible. If you want to help build the fightback, find out when term is starting at your local college or school. Many YFJ and Socialist Students groups already have a plan of action for their local schools, colleges and universities for the new term.
If this is not you, then start drawing one up now. Find out when your nearest university freshers fair is taking place and get a stall booked at it as soon as possible. Get on the campuses and put forward the demands and ideas of YFJ and Socialist Students!
Contact these organisations on
www.socialiststudents.org.uk and
www.youthfightforjobs.com if you want help or advice.
---
>
Campaign to Defeat Fees
The government is expected to acquiesce to the demands of university vice-chancellors and raise the cap on tuition fees by thousands of pounds in coming years. Not to mention the brutal cuts that many university and college students and staff are facing!
This means that the Socialist Students initiated Campaign to Defeat Fees will be increasingly important. Last year saw an increase in student protest and we must be prepared for even bigger battles this year as the government looks for savings in a desperate attempt to balance its spiralling deficit.
---
>
Youth Fight for Jobs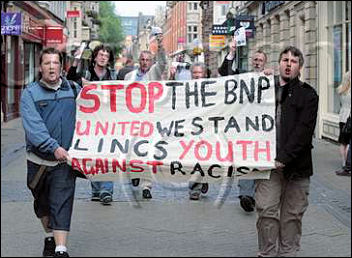 Lincolnshire Youth Fight for Jobs campaigning against the BNP
YFJ will be campaigning for real, decent jobs for young people. The feeble measures the government has taken, such as the Future Jobs Fund (see previous issues and the YFJ website), are not nearly enough to help young people and stop the tide of mass youth unemployment. In fact, it means the government may be giving organisations money to exploit young labour and drive down the pay and conditions of all workers.
It is not enough to bankroll organisations into introducing a few thousand extra, low paid jobs or training schemes for six months. The government should be investing in creating jobs en masse through a new, publicly owned green-sector, or through public works such as building social housing.
This will therefore be an important issue for YFJ activists to campaign around in the months ahead. We can't allow the government to get away with paying nothing more than lip service to youth unemployment!
---
>
Young trade unionists
The Young Members Network of the PCS civil servants union, one of the three major national trade unions that support YFJ, is organising a 'young trade unionists week of action' from 6 to 13 September. This represents a great opportunity for YFJ activists to build links with trade unionists, and campaign alongside them against low pay and harsh working conditions for young people. All YFJ groups and members should look at how they can get involved.
We must ensure that all those young people who are angry or frustrated know that there is a socialist alternative, that we can fight back, and that we can win.
---




LATEST POSTS

WHAT'S ON

CONTACT US
Locate your nearest Socialist Party branch Text your name and postcode to 07761 818 206
Regional Socialist Party organisers:
Eastern: 079 8202 1969
East Mids: 077 3797 8057
London: 075 4018 9052
North East: 078 4114 4890
North West 079 5437 6096
South West: 077 5979 6478
Southern: 078 3368 1910
Wales: 079 3539 1947
West Mids: 024 7655 5620
Yorkshire: 077 0671 0041

ABOUT US

ARCHIVE
---

2019

2018

2017

2016

2015

2014

2013

2012

2011

2010

2009

2008

2007

2006

2005

2004

2003

2002

2001

2000

1999