Reports and Campaigns

About the Socialist Party

Anti-capitalism

Anti-privatisation

Anti-war

Election campaigns

Environment

Health

Socialist women

Workplace

Youth and Students
---
---
Reports and campaigns:
Stop the slaughter of Tamils (7)
Workplace and TU campaigns (18111)
Related websites
Trade Unionist and Socialist Coalition
National Shop Stewards Network
---
---
Socialist Party campaigning
The Socialist Party has a long and proud record of struggling to defend working class people. We are involved in many campaigns throughout England and Wales, and support many others internationally.
We are at the forefront of fighting against the austerity onslaught of the Tory government, participating in anti-cuts campaigns throughout the country.
Jeremy Corbyn and the Labour Party
In the June 2017 general election we supported and helped to campaign for Jeremy Corbyn's manifesto to deliver anti-austerity and anti-war policies. Before that, we backed his two campaigns for election as Labour leader - including by our members calling for a vote for him among Labour-affiliated trade unionists.
While there was a chorus from pro-capitalist circles of Jeremy Corbyn being "unelectable", we have consistently argued that he can win a general election with a bold, socialist, anti-austerity programme.
It was the toxic legacy of Blairism that was the main obstacle to a Labour victory last year. The Blairites and their successors with a right-wing, pro-austerity agenda have been the main liability.
In essence the struggle taking place in the Labour Party is about in which class's interests it is going to act - the working class and middle class majority in society with little hope for the future, or the top 1%?

The pro-capitalist wing of Labour still dominates the Parliamentary Labour Party and the Labour-led councils and it still controls much of the Labour Party machine.
Labour councils
Jeremy Corbyn and John McDonnell have spoken out against privatisation in public services and called for the return of "municipal socialism". Their pledges include ballots of residents prior to redevelopment of council estates, replacement of lost social housing, and more realistically-affordable housing costs.
Jeremy also proposed giving councils the power to seize empty properties to house the homeless and shadow housing minister John Healey has said a Labour government would legislate to buy land at its nominal price.
At the same time though, Labour councils have continued, despite Corbyn's leadership of the national party, to privatise, close and cut vital services, jobs and pay. The spectre of the end of the central government grant to local authorities in 2020 means that Labour councils are more and more looking to sell-offs, luxury developments and deals with private developers to increase income.

If the huge support for Corbyn is not to be undermined, it is imperative that a clear instruction is issued from the top that Labour councils must stop making cuts. And their plans must go further, to include mass council house building and measures such as rent control in the private sector.

The 58 Labour-led councils that had elections last year alone have £4.5 billion in general reserves. These funds, along with use of powers to borrow money, could be used to help implement legal no-cuts budgets, while launching a struggle against Tory austerity which could defeat the government.
Readmit socialists
In November 2016, 75 expelled and excluded socialists - including former Labour MP Dave Nellist and former Liverpool Labour councillors such as Tony Mulhearn - applied for readmittance to the Labour Party, backed by hundreds of signatures of trade unionists and community campaigners. The application was rejected by Labour general secretary Iain McNicol.
Also the Socialist Party wrote to McNicol to ask the NEC to consider affiliation of socialist and campaigning organisations, including the Socialist Party, in the same way that the Co-op party is currently affiliated. This too was rejected.
As well as calling for the readmittance of socialists, we argue for the restoration of trade union rights and the adoption of a democratic federal structure. On this basis, the Labour Party could really become a mass anti-austerity socialist party that draws together all those forces opposing the Tories and inequality and austerity.
Democratise the Labour Party
Just as he did with the general election manifesto, Jeremy Corbyn should go over the heads of the Blairites to appeal to Labour's members with a new democratic constitution. Reselection of MPs cannot wait. With the Tories so divided and openly discussing replacing Theresa May, Corbyn supporters need to prepare for a general election.
Every MP and councillor should face mandatory reselection. This democratic process existed in the past, but was abolished as part of the Blairites' consolidating their grip on the party.
The role of the trade unions in the party should be restored, on a democratic basis so that union delegates genuinely represent the views of their millions of members.
Readmit all those socialists who have been expelled and excluded.
A return to a federal approach, which would mean allowing political parties that are prepared to sign up to a clear anti-austerity programme, including the Socialist Party, to affiliate to Labour as the Co-op Party still does.
The millions who voted for Corbyn's manifesto did so because they want to see something fundamentally different. There will be big hopes in a Corbyn government. Corbyn will come under ferocious attack from the capitalist class over any measures that restrict their ability to make profits. He must not allow himself to be trapped by the capitalists' representatives in his own party.
In the Socialist Party we will continue to do all we can to help mobilise a mass movement in support of Corbyn's policies, and link those to the need to take the major banks and corporations into democratic public ownership - for a socialist society.
---
>
Workplace campaigns and disputes
We are constantly involved in the struggles of trade unions and trade union members against attacks by the government and private sector employers on workers' pay, jobs, pensions, and terms and conditions.
On 26 March 2011 half a million people marched against attacks on pensions and other cuts; then strike action was taken by 750,000 civil servants, teachers and lecturers on 30 June 2011; followed by over two million public sector workers on 30 November 2011; and by 400,000 workers on 10 May 2012.
Since those large strikes we have been involved in supporting - and in some cases helping to lead - many national and local strikes by trade unions, including those of the PCS (civil servants), UCU (lecturers), NUT (teachers), BMA (doctors), and RMT (transport workers).
We play a leading role in building the National Shop Stewards Network (NSSN, http://shopstewards.net/), which helps workers in struggle at rank and file level and that has played a key role in mobilising pressure on the trade union leaders to organise more - and more widespread - coordinated action against government austerity measures.
Crucially, the Socialist Party and the NSSN have called on the TUC to prepare the way for a one-day general strike against the decimation of services, benefits and workers' standards of living generally.
Many of our members are workplace trade union shop stewards and over 20 have won representation on their trade union national executive committee.
The Socialist consistently reports on developments in the trade union movement and on battles, for example, against low pay and privatisation.
And much more ...
We fight against all cuts in jobs, services and benefits; against student tuition fees and against privatisation. We campaign for decent pay, pensions, benefits, and student grants.
We campaigned against the wars on Iraq and Afghanistan and other military interventions by imperialist powers. We fight for a socialist world free of war, terrorism and racism.
We campaign to stop the destruction and pollution of our environment.
---
>
Election campaigns
The Socialist Party has contested elections across the country. Since 2010 this has been done as part of the Trade Unionist and Socialist Coalition (TUSC).
The Socialist Party stood candidates as part of the Trade Unionist and Socialist Coalition (TUSC) in the local elections on May 3rd 2018. TUSC stood 111 council candidates in 33 authorities , contesting 101 wards. The results are available here: http://www.tusc.org.uk/txt/424.pdf
TUSC candidates support the anti-austerity message of Jeremy Corbyn and have only stood against councillors who vote for cuts - whatever their party label.

On 4th May 2017 TUSC stood 78 candidates in local council elections, contesting seats across 24 local authorities in England, Scotland and Wales. TUSC also stood in two of the mayoral elections on that day in the new Liverpool City Region and in Doncaster.
TUSC decided not to stand any candidates in the June 2017 general election because it presented an opportunity for working class people to drive out the Tory government and put a socialist - Jeremy Corbyn - in Number Ten.
In May 2016 TUSC stood candidates in the local elections across the country and also the mayoral elections in Liverpool and Bristol. TUSC's 2016 results are available here: www.tusc.org.uk/17246/
In 2015, the Socialist Party stood many candidates as part of TUSC in the 7th May 2015 general election and in the local elections on the same day, demanding "no to cuts and privatisation". Altogether 748 candidates contested the elections on May 7th under the TUSC umbrella, polling a combined total of 118,125 votes (for the detailed results, go to: http://www.tusc.org.uk/txt/338.pdf).
Previously, the Socialist Party stood candidates as part of TUSC in the 2010 general election and the May 2011, 2012, 2013 and 2014 local elections.
Trade unionists involved in the TUSC coalition include official representatives of the RMT transport workers' union, and in a personal capacity, the PCS (civil servants' union) assistant general secretary Chris Baugh and PCS vice president, John McInally.
Former RMT general secretary Bob Crow was on the TUSC steering committee and was closely involved in the coalition from its first days.
TUSC stands for public ownership, not cuts and privatisation; jobs, not handouts to the bankers; the repeal of the anti-trade union laws, protection of the environment, decent pensions, and democratic rights. It presents the case for a democratic socialist society run in the interests of the people not the millionaires.
Europe
In the June 2009 and May 2014 European elections we were part of the trade union-led No2EU - Yes to Democracy campaign.
In the 23rd June 2016 European Union referendum, the Socialist Party called for a 'Leave' vote, because we oppose the bosses' club that the EU is in reality. We fight for the interests of ordinary people in Britain and across Europe - which would be for a voluntary, democratic, socialist confederation of Europe.
We oppose the EU from a completely different class standpoint to that of the pro-big business Ukip and the Tory 'outers'.
A 'Leave' vote was also an opportunity to pass verdict on Cameron and his rotten government. Cameron has gone as a result of that verdict - now let's remove all the Tories from power!
Read our articles on the EU referendum:
Historic victories
Between 1983 and 1992, as part of the Labour Party, we had three socialist MPs - Dave Nellist, Terry Fields and Pat Wall - who lived on the average wage of the workers they were representing.
They never forgot their working class roots, or the problems of those workers that elected them - unlike many political and trade union leaders who live on inflated salaries.
We have also had Socialist Party councillors elected to serve terms of office representing the working class: Dave Nellist, Rob Windsor and Karen McKay in Coventry; and Ian Page and Chris Flood in Lewisham.
In 2006 in Huddersfield, Socialist Party member Dr Jackie Grunsell also won a council seat - with a majority of over 700 - standing as a 'Save Huddersfield's NHS' candidate.
International victories
Our sister sections in the Committee for a Workers' International in countries such as Ireland, Germany, Sri Lanka and Sweden also have had members elected to councils.

In November 2013 the first socialist councillor for over 100 years was elected in Seattle, United States. This was Kshama Sawant, a member of Socialist Alternative, the Socialist Party's sister organisation in the US. Kshama was reelected in 2015.

Socialist Party Ireland has three of its members serving as TDs in the Irish parliament as part of the Anti-Austerity Alliance: Ruth Coppinger, Mick Barry and Paul Murphy.
Socialist Party member Joe Higgins was also previously a TD before recently stepping down from that position, and Joe and Paul have both served periods of office as MEPs for Socialist Party Ireland in the European parliament.
.
---
>
The Militant
Two decades ago, we were known as the Militant Tendency and campaigned in the Labour Party for socialist policies.
We led Liverpool City council's battle in the mid 1980s for decent housing, jobs and services, and later were leaders in the battle to defeat Tory Prime Minister Margaret Thatcher's poll tax which forced her to resign.
---
>
We outline below some of the other campaigns and organisations that Socialist Party members are involved in.
If you want to find out more or get involved click here.
---
>
Youth Fight for Jobs
The right to a decent job for all, with a living wage of at least £10 an hour, with no youth exemptions.
Scrap zero-hour contracts!
No to cheap labour apprenticeships! For all apprenticeships to pay at least the minimum wage, with a job guaranteed at the end.
Support the Fast Food Rights campaign
No to university fees.
Jobs are being cut left, right and centre and young people are among the first to be thrown on the scrapheap. One million young people are unemployed.
Even when the economy was growing, young people faced low paid, insecure jobs. Youth Fight For jobs says: "The government has bailed out the bankers - we demand a bailout for the rest of us!"
---
>
Socialist Students
Socialist Students campaigns against university tuition fees, against cuts in funding for higher education, for the restoration of a living grant and on many other issues.
Visit Socialist Students website
---
>
The Socialist Party always opposed the invasions and occupations of Iraq and Afghanistan and called for the immediate withdrawal of foreign troops. We have been actively involved in many other anti-war campaigns and protests, including against Israeli military onslaughts on Gaza.
---
>
National Health Service campaigning
We have been involved in many campaigns to stop hospital and ward closures around the country, and against the ongoing privatisation of health services. Read our NHS campaign articles.
The Socialist carries many reports on healthworkers fighting low pay and privatisation, some led by Socialist Party members, such as at Whipps Cross.
---
>
The environment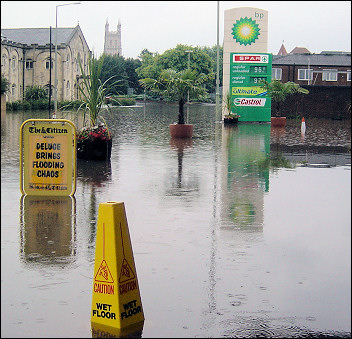 Caution wet floor - flooding in the centre of Gloucester, photo Chris Moore
Capitalism is literally destroying the planet. We are involved in many kinds of campaigns to stop this destruction.
Socialist Party members regularly participate in demonstrations on many environmental issues; including on climate change, anti-fracking, for flood defences, against toxic waste incinerators and against nuclear power.
---
>
Click here to read some of our articles on defending equality and the rights of Black and Asian people.
We were involved in campaigning against the disastrous war in Sri Lanka and helping to build the organisation Tamil Solidarity in Britain(www.tamilsolidarity.org).

We are involved in many campaigns against racism and neo-fascism, including demonstrations against the far-right English Defence League and BNP, as well as in other anti-racist activities - including against discriminatory harassment and brutality by the police.
Across the country we have been involved in campaigns against the privatisation of council housing, for repairs and improvements and on many other issues.
We call for a massive building programme of publicly owned housing, on an environmentally sustainable basis, to provide good quality homes with low rents.
In Lewisham, London, Socialist Party councillors led a campaign, along with local tenants, to convince the community not to vote for privatisation. Despite the New Labour council spending a fortune – they sent a video to every home – the campaign was successful.
In London, young Socialist Party members have campaigned against evictions, housing benefit cuts and the sell-off our council housing; and for rent caps, council run lettings agencies, a mass building programme of council housing, the renovation and use of empty properties, and for banks, when requested, to turn mortgages into affordable rents and offer cheap, no or low interest mortgages.
---
>
Socialist Women
'Socialist Women' holds national, regional and local meetings to discuss issues of particular importance for women.
Combating violence against women: A socialist perspective on fighting women's oppression
Fighting for Women - Rights and Socialism
---
>
Socialist Party Lesbian, Gay, Bisexual and Transgender group
Our LGBT Group helps coordinate campaigns against anti-gay discrimination and for civil rights for all.
---
>
Fighting racism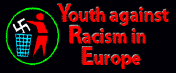 YRE logo
Socialist Party members were involved in the initiative to set up Youth against Racism in Europe (YRE)in 1992. Involving thousands of young people, it coorganised a demonstration in 1993 of 50,000 people to demand the closure of the Nazi BNP's HQ.
The Socialist Party works both independently and with other groups to fight all racism, prejudice and discrimination.

When the far-right try to march or demonstrate, we are involved in organising counter-demonstrations, uniting local communities to stop them.

For example, following the terrorist attack in Woolwich in May 2013 we helped to organise demonstrations against racist attacks on Muslims and against the far-right trying to opportunistically use the attack to recruit to their racist organisations.

---
>
---
>




LATEST POSTS

WHAT'S ON

CONTACT US
Locate your nearest Socialist Party branch Text your name and postcode to 07761 818 206
Regional Socialist Party organisers:
Eastern: 0798 202 1969
East Mids: 0773 797 8057
London: 020 8988 8786
North East: 0784 114 4890
North West 07954 376 096
South East: 020 8988 8777
South West: 07759 796 478
Southern: 07833 681910
Wales: 07935 391 947
West Mids: 02476 555 620
Yorkshire: 0114 264 6551

ABOUT US

ARCHIVE
---

2018

2017

2016

2015

2014

2013

2012

2011

2010

2009

2008

2007

2006

2005

2004

2003

2002

2001

2000

1999