Text of leaflet January 2007
Save Huddersfield NHS
· No to cuts and closures
· Unite the various NHS campaigns
· Build for the 3rd March national demonstration in London
New Labour's onslaught on the NHS continues, in the beginning of January 2007 Patricia Hewitt shrugs off the loss of 18,000 jobs in the NHS and the cuts in services that accompanies this and instead talks about the transformation (read privatisation) of the NHS. The cuts and closures we are seeing in Huddersfield are one of many attacks in the devastation of the NHS that the government are planning. Sell offs, cuts and closures are happening across the country in increasing frequency, but similar campaigns are springing up across the country wherever these are proposed.
On 1st November 2006 we marched with some of the these campaigns in London outside the trade union lobby of parliament, where we were our local MPs attempted to ignore us and Kali Mountford MP described us as a 'Stupid campaign'. Obviously she thinks that the 50,000+ people in Huddersfield who signed the petition against the cuts are stupid because they won't let Labour destroy their National Health Service. However, we were met with warmth from our fellow campaigners from across the country and agreed to meet in Nuneaton on December 3rd to launch People United Saving Hospitals (PUSH), an umbrella group of many campaigns across the country to begin to co-ordinate our actions into a national campaign to tackle the disastrous national policy of our government.
The first united day of action was 15th December, which saw a lobby outside the Department of Health, protests all across London, in Coventry and our very own protest outside the HRI in Huddersfield. PUSH has also called for a national demonstration in London against NHS cuts on 3rd March 2007, which has won the backing of AMICUS, Keep Our NHS public and two regions of UNISON so far. In Huddersfield we are calling on people to come down with us to London to attend the demonstration and we are booking a coach to go down. Contact us to book your place.
Get Involved
Keep Our NHS Conference – 20th January, 11am, Friends Meeting House, 173 Euston Road, London
Public Debate on the Future of the NHS – 7th February, 7pm, Huddersfield Town Hall
National Demonstration (London) – 3rd March
For more information contact Cllr. Jackie Grunsell on 07809211325
E-mail us at [email protected]
Or check out our website at www.savehuddersfieldnhs.co.uk
---
Urdu leaflet 2006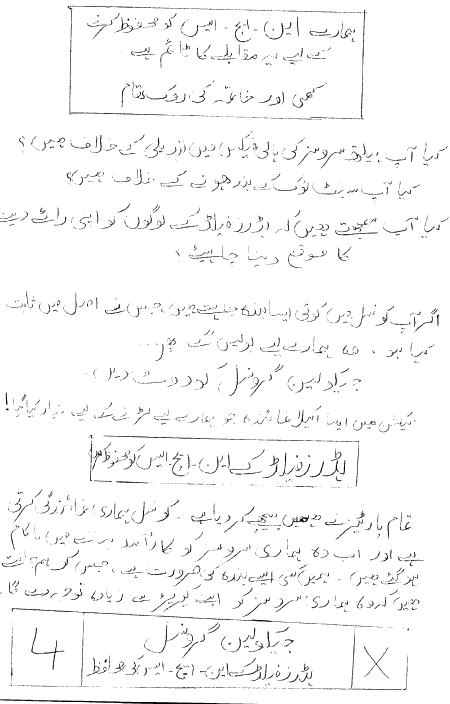 ---
Text of thank you leaflet after election
A Message from
Councillor Jackie Grunsell

A Big Thank You
For All Your
Tremendous Support
This was a great result for our campaign. It sends a clear message to the Trust about their plans to move local health services to Halifax. It also sends a message to the council...that local people care about our services. Electors told us they would be voting for me because they support our fight and are tired of politicians making promises and failing to deliver. This vote gives us a mandate to continue this struggle. I will also be representing all of you on the council to ensure that the defence of health and public services is a number one priority. I will not be going away. Our campaign gets stronger! Please play your part in this campaign by joining Save Our NHS and by attending our post election meetings, details overleaf. Thank you again.