Reports and Campaigns
---

About the Socialist Party

Anti-capitalism

Anti-privatisation

Anti-war

Election campaigns

Environment

Health

Socialist women

Workplace

Youth and Students
---
---
Reports and campaigns:
Stop the slaughter of Tamils (54)
Workplace and TU campaigns (5117)
Related websites
Trade Unionist and Socialist Coalition
National Shop Stewards Network
About the Socialist Party
The Socialist Party has a long and proud record of struggling to defend working-class people. We are involved in many campaigns throughout England and Wales.
In particular during the last year we have been involved in the struggle of a number of trade unions against the government's attacks on public sector pensions and other austerity measures.
On 26 March 2011 half a million people marched on this issue and against other cuts; then strike action was taken by 750,000 civil servants, teachers and lecturers on 30 June 2011; by over two million public sector workers on 30 November 2011; and by 400,000 workers on 10 May 2012.
We help to build anti-cuts alliances throughout the country in opposition to all the attacks of the Con-Dem government.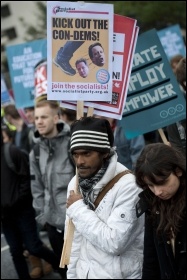 Students on the NUS national demonstration 12 November against the government attacks on university education, photo Paul Mattsson (Click to enlarge)
We fight against all cuts in jobs, services and benefits; against student tuition fees and against privatisation. We campaign for better pay, pensions and benefits.
We actively support workers in industrial disputes. During the last year we've supported workers in many disputes, including those of construction workers fighting reductions in pay, Unilever workers trying to stop a cut in their pensions and oil tanker drivers fighting against job insecurity.
We play a leading role in building the National Shop Stewards Network (NSSN), which helps workers in struggle at rank and file level and that has played a key role in mobilising pressure on the trade union leaders to organise action against government austerity measures.
We campaign against the war on Afghanistan and occupation and against other military interventions by imperialist powers. We fight for a socialist world free of war and terror.
We campaign to stop the destruction and pollution of our environment.
New mass workers party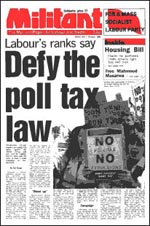 Militant newspaper - Defy the Poll Tax law
Two decades ago, we were known as the Militant Tendency and campaigned in the Labour Party for socialist policies.
We led Liverpool City council's battle in the mid 1980s for decent housing, jobs and services, and later were leaders in the battle to defeat Tory Prime Minister Margaret Thatcher's poll tax which forced her to resign.
Today we campaign for a new mass party that can draw together workers, environmental and community campaigners, anti-capitalist, anti-war and other protesters to represent and fight for the interests of ordinary people. You can join us by clicking here.
Election campaigns
The Socialist Party contests elections across England and Wales.
The Socialist Party stood candidates as part of the Trade Unionist and Socialist Coalition (TUSC) in the 2010 general election and the May 2011 and 2012 local elections, demanding "no to cuts and privatisation".
In May 2012 TUSC stood 134 council candidates, in 40 councils, and averaged 6.2% of the vote in these seats. It also stood in the London Assembly list election and the Liverpool mayoral election.
Trade unionists that founded the coalition include the transport workers' union (RMT) general secretary Bob Crow, the former general secretary of the Prison Officers Association, Brian Caton, the civil servants' union (PCS) assistant general secretary, Chris Baugh, and PCS vice president, John McInally (all in personal capacity).
TUSC stands for public ownership, not cuts and privatisation; jobs, not handouts to the bankers; the repeal of the anti-trade union laws, protection of the environment, decent pensions, and democratic rights. TUSC calls for the troops to be brought back from Afghanistan immediately and for a democratic socialist society run in the interests of the people not the millionaires.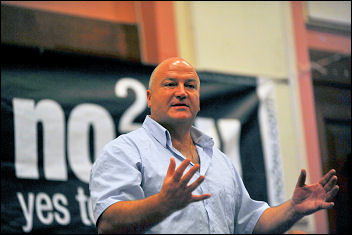 Bob Crow, RMT general secretary, speaking at the London No2EU election rally, photo Paul Mattsson
In the June 2009 European elections we were part of the trade union-led No2EU - Yes to Democracy campaign.
Between 1983 and 1992, when we were part of the Labour Party, we had three socialist MPs - Dave Nellist, Terry Fields and Pat Wall - who lived on the average wage of the workers they were representing.
They never forgot their working class roots, or the problems of those workers that elected them - unlike many political and trade union leaders who live on inflated salaries.
We have also had Socialist Party councillors elected to represent the working class: Dave Nellist, Rob Windsor and Karen McKay in Coventry; and Ian Page and Chris Flood in Lewisham.
In 2006 in Huddersfield, Socialist Party member Dr Jackie Grunsell also won a council seat - with a majority of over 700 - standing as a 'Save Huddersfield's NHS' candidate.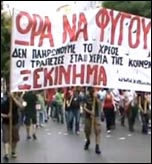 Xekinhma, Greek section of CWI, on massive general strike in Greece on 15 June 2011 , photo Xekinhma
Our sister sections in the Committee for a Workers' International in countries such as Australia, Ireland, Germany, Sri Lanka and Sweden also have members who have been elected to be councillors. Socialist Party Ireland member Joe Higgins is a Socialist Party TD in the Irish parliament. Socialist Party Ireland also has a representative in the European parliament, Paul Murphy MEP.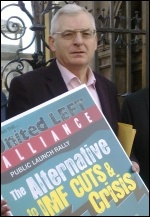 Joe and Paul only take the average wage level of a skilled worker in Dublin, donating the rest to fund the struggles of the working class.
---
>
We outline below some of the campaigns and organisations that Socialist Party members are involved in. We usually report on our latest campaigning activities on our home page.
If you want to find out more or get involved click here.
---
>

Youth Fight for Jobs
The right to a decent job for all, with a living wage of at least £8 an hour.
No to cheap labour apprenticeships! For all apprenticeships to pay at least the minimum wage, with a job guaranteed at the end.
No to university fees. Support the Campaign to Defeat Fees.
Jobs are being cut left, right and centre and young people are among the first to be thrown on the scrapheap. One million young people are unemployed.
Even when the economy was growing, young people faced low paid, insecure jobs. Youth Fight For jobs says: "The government has bailed out the bankers - we demand a bailout for the rest of us!"
During the riots in summer 2011 Youth Fight for Jobs and Socialist Party members leafletted and held public meetings in many areas on the issues involved. In Tottenham in London, where the riots started, YFJ organised a meeting of over 80 people and demanded the reopening of youth facilities in the area that had been closed.
---
>
Socialist Students
Socialist Students campaigns against university tuition fees, against cuts in funding for higher education, for the restoration of a living grant and against the war on Afghanistan, to name but a few issues.
Visit Socialist Students website
---
>
The Socialist Party always opposed the invasion of Iraq and Afghanistan and consistently called for the immediate withdrawal of troops. We have also been actively involved in many other anti-war campaigns and protests, including against Israeli military onslaughts on Gaza. We are part of the Stop the War Coalition.
---
>
National Health Service campaigning
We have been involved in many campaigns to stop hospital and ward closures around the country, and against the ongoing privatisation of health services. Read our NHS campaign articles.
The Socialist carries many reports on healthworkers fighting low pay and privatisation, some led by Socialist Party members, such as at Whipps Cross.
---
>
Workplace and trade union
Socialist Party members are amongst the most determined trade unionists and fighters in workplaces for decent wages and conditions, and for building the left inside the trade unions.
We have been in the leadership of many disputes and strikes and are always on hand to offer support and advice based on past experience, and to help develop struggles and solidarity from other workers. Many of our members are workplace trade union shop stewards and we have won representation on a number of trade union executives.
The Socialist consistently reports on developments in the trade union movement and on battles, for example, against low pay and privatisation.
---
>
The environment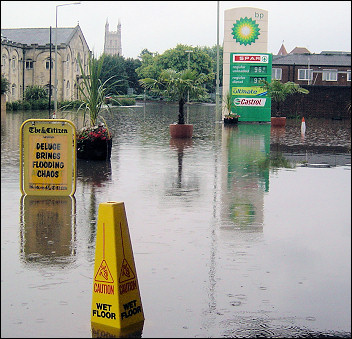 Caution wet floor - flooding in the centre of Gloucester, photo Chris Moore
Capitalism is literally destroying the planet. We are involved in many kinds of campaigns to stop this destruction.
For example, we assisted local residents in Sheffield in a successful campaign to get a toxic waste disposal centre closed. The press officer of the campaign said of Socialist Party members:
"[The Socialist Party] for the last two years stood side by side with us as we battled against this huge multinational…
[They] showed us how to protest, how to sustain it over all the time of the campaign... Now our campaign has become a blue print to what can be achieved by ordinary people against these big chemical companies."
---
>
Black and Asian group
Click here to read some of our articles on defending the rights of Black and Asian people.
We were involved in campaigning against the disastrous war in Sri Lanka and building the
www.tamilsolidarity.org
campaign, which continues today.We are involved in many campaigns against racism and neo-fascism, including demonstrations against the far-right English Defence League, as well as in other anti-racist activities - including against harassment by the police - and international solidarity campaigns.
---
>
Across the country we have been involved in campaigns against the privatisation of council housing, for repairs and improvements and on many other issues.
We call for a massive building programme of publicly owned housing, on an environmentally sustainable basis, to provide good quality homes with low rents.
In Lewisham, London, our Socialist Party councillors led a campaign, along with local tenants, to convince the community not to vote for privatisation. Despite the New Labour council spending a fortune – they sent a video to every home – the campaign was successful.
In London we are presently involved in 'Young Londoners - Forced Out?' which is campaigning against evictions, housing benefit cuts and the sell-off our council housing; and for rent caps, council run lettings agencies, a mass building programme of council housing, the renovation and use of empty properties, and for banks, when requested, to turn mortgages into affordable rents and offer cheap, no or low interest mortgages.
---
>
Socialist Women
Socialist Women holds national, regional and local meetings to discuss issues of concern to women.
Fighting for Women - Rights and Socialism
---
>
Socialist Party Lesbian, Gay, Bisexual and Transgender Group
Our LGBT Group helps coordinate campaigns against anti-gay discrimination and for civil rights for all.
---
>
Fighting racism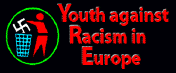 YRE logo
Socialist Party members were involved in the initiative to set up Youth against Racism in Europe (YRE)in 1992. Involving thousands of young people, it coorganised a demonstration in 1993 of 50,000 people to demand the closure of the Nazi BNP's HQ.
When the Nazi nail bomber struck in London we initiated demos in Tower Hamlets and Brixton and participated in action in Soho. The Socialist Party works both independently and with other groups to fight racism, prejudice and discrimination.
---
>
Would you like to find out more about the Socialist Party? Why not Contact or Join the Socialist Party?
---
>
---